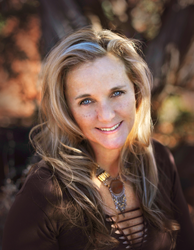 "Many love-starved seekers stay in unhealthy relationships, or leap unconsciously into the next unhealthy relationship. These 5 Questions help you to avoid that trap and attain true relationship health once and for all."
Sedona, Arizona (PRWEB) June 27, 2016
Anahata Ananda, shamanic healer, teacher and relationship expert is captivating online audiences with her recent article "5 Vital Questions to Ask Yourself to Help Avoid Relationship Disasters" as guest blogger on David Wolfe's online nutrition and superfoods blog and podcast. Anahata, founder of Shamangelic Healing, Sedona Arizona's Premier Center for Shamanic Healing and Spiritual Awakening, is a shamanic healer and relationship coach who offers insightful tips and practices for couples who are seeking to break out of negative patterns and instead form deep and meaningful unions.
In 5 Vital Questions, Anahata provides the five crucial questions that anyone who is thinking about entering a new relationship should ask themselves. The questions are artfully constructed to encourage the reader to drill deep into their own motives, needs and expectations of a relationship.
Through the five questions, the article elaborates on the concept that, the more people know themselves, the higher chance they have for forging healthy successful relationships with others, as well as their own spiritual awakening. With self-revealing questions such as Who Am I? and Who Are They?, 5 Vital Questions helps steer love-starved people into smoother, more fulfilling and lasting relationships.
David "Avocado" Wolf is a best-selling author in the field of nutrition and superfoods. The Official David Wolfe Podcast advocates for superfoods and superherbs to promote healthier bodies and minds. The podcast is also a forum for discussions, information and inquiry into the fields of Longevity and SuperNutrition. Anahata began blogging for the David Wolfe website in February 2016 and has partnered with him since 2002 to bring empowerment, healing and awakening education to the forefront of the health and wellness world.
Anahata's relationship coaching is focused on mentoring couples and individuals in creating meaningful, conscious relationships, with each other as well as with any other significant relationship such as parents, children, co-workers, neighbors and even entire communities.
To meet the increasing demand for more resources that support the journey of couples and individuals seeking deep healing and spiritual awakening, Shamangelic Healing offers online courses that include affordable, easy access to empowering practices and concepts that couples and individuals can use in their daily lives. The Maintaining Healthy Conscious Relationships online course is designed to help people put an end to repeating patterns of relationship drama and chaos, providing simple concepts and practices for improving any type of relationship and supporting personal growth.
Shamanic Healer and Spiritual Counselor, Anahata Ananda, has trained extensively with gifted shamans, energy healers and spiritual teachers from around the world in order to artfully integrate the fields of spirituality, energy healing, self-empowerment, and shamanic teachings. Her client-base spans the globe with individuals from all walks of life who are seeking to heal and awaken to their fullest potential.
The Shamangelic Healing Center is based in Sedona, Arizona. It is nestled beneath Thunder Mountain, with 360 degrees of breathtaking views, and within walking distance to a medicine wheel and healing vortexes, making it the perfect setting for healing and expansion. Inside, the retreat center's calm and relaxed environment helps to engage all of the senses, making it easy to settle into a session. Clients seeking Spiritual awakening, transformational healing services, counseling, sacred land journeys or training courses may choose from a wide range of options that can be tailored for the ultimate personal experience.
For those unable to attend or come to Sedona, Anahata has created online courses for the global audience with convenient 24 hour access to videos and self-paced exercises and printable handouts that help explore the tools and practices to live a more empowered, balanced and conscious life.
For detailed descriptions and a calendar of more upcoming retreats, workshops, courses, and all services offered by Anahata Ananda, visit http://shamangelichealing.com/