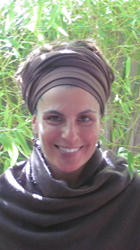 Anahata's integrity, teachings, wisdom & GRACE are bountiful! She truly initiates the Shaman Within!
Sedona, Arizona (PRWEB) June 11, 2014
May 29th - June 1st, 2014, the Sedona Illuminate Film Festival featured over 16 conscious films with a common theme of awakening humanity to live more conscious expanded lives. The World Premier of Dance of Liberation was one of the precious gems showcased at the Festival. This touching soulful documentary follows the visually stunning, inspirational journey of a lost and broken young woman who transforms into a powerful soul healer - and bravely tries to mend her deepest childhood wound along the way. The film documents the true story of Israeli-American Parashakti, and how her personal practice of yoga, 13 years of ceremonial service with Native American Elders, and the creation of her own transformative healing practice, the Dance Of Liberation®, ultimately healed her life. The film remind viewers that all have the power to transform the life one is given if one has the strength to face the shadows and summon the courage to move in the direction of one's dreams.
Throughout the film, Sedona Healer, Spiritual Guide and Shamanic Teacher Anahata Ananda is featured as an expert on Parashakti's healing journey. Issues such as abandonment, core healing, spiritual awakening, family dynamics, relationship challenges and personal empowerment are addressed. Parashakti's process inspires the audience to have the courage to heal the past, look within for answers and create follow one's personal path with perseverance and faith. Anahata provides in-depth commentary and perspective on Parashakti's experience that helps inspire viewers to be courageous and bold in following their own Dance of Liberation in the life.
Anahata has trained extensively with gifted shamans, energy healers and spiritual teachers from Peru, India, Asia and North America in order to artfully integrate the fields of energy healing, self-empowerment, shamanic teachings, emotional release, spiritual studies and visualization techniques. Blending the compassion and tenderness of an Angel and the wisdom and strength of a Shaman, Anahata guides journeys of profound healing and awakening. Her extensive client base spans the globe and includes business professionals, parents, couples, healers and individuals of all ages, who seek to heal and awaken their fullest potential.
Anahata is the founder of Sedona Arizona's premier center for Shamanic Healing and Spiritual Awakening. Within the breathtaking beauty of sacred Sedona, Anahata offers a variety of Shamangelic Healing sessions, Energy Healing & Shamanic training courses, Personalized and Group retreats, Soulful Land Journeys and Sacred Ceremonies. Personalized retreats are tailored in the areas of Transformational Healing, Spiritual Awakening, Couples Retreats, Vibrant Health and Soulful Rejuvenation. Group retreats are offered throughout the year such as the Goddess Empowerment Retreat and Shamanic Soul Retreat.
Anahata also leads an annual Sacred Equinox Journey to the Sacred Valley of Peru. Next retreat is scheduled for March 10th-23rd, 2015. Together, Anahata and Jorge masterfully steward this sacred journey of exploration into the magic and mysteries of this ancient healing land and the depths of the soul. Each day is a new adventure. With each sacred site, ceremony, wisdom sharing or healing session, they masterfully weave a sacred experience that builds and expands one's awareness of the potent wisdom held within the chalice of the sacred heart.
For detailed descriptions of the Shamangelic Healing Sessions, Training Courses, Personal or Group and Sacred Land Journeys offered by Anahata visit http://www.ShamangelicHealing.com and http://www.ShamangelicRetreats.com.