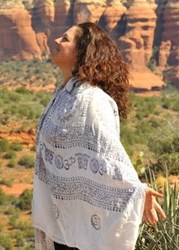 Recently, my husband passed away from cancer. I was not in a place yet to say goodbye to him. Through my work with Anahata, I was able to reclaim my strength and allow for my husband to have a loving and beautiful transition in a very conscious way.
Sedona, AZ (PRWEB) September 10, 2013
Life and death touches us all. It is likely that every American is coping with some form of grief surrounding death, dying, suicide or terminal illness. Unresolved emotional issues surrounding death can cause a range of detrimental effects such as illness, depression, addictions, diminished capacity to work and relationship conflicts. Shamangelic Healing with Anahata based in Sedona, Arizona is addressing this reality by offering a wide range of services to support individuals and families that are coping with grief issues surrounding death. Through Personal Counseling, In-Person Healing Sessions and Retreats, Counseling for Conscious Transitions as well as Life Celebration and Release Ceremonies, Shamangelic Healing provides real solutions and conscious perspectives to life transitions and empowering tools that allow individuals to heal, release and move forward with their life.
As a growing number of people are becoming disenchanted with the traditional approaches to terminal illness, suicide, death and dying, more are considering alternative approaches for coping with the grief and loss associated with issues surrounding death. For loved ones and family member that are care-giving for someone with terminal illness, the stress, emotional density and long draining hours can cause tremendous physical and emotional fatigue. For those grieving the loss of a loved due to illness, accidental death or suicide, coping with the adjustment and making sense of the situation may be too overwhelming. Coping with one's own mortality can be scary and daunting. Grieving relatives may need help to create a conscious ceremony to honor deceased loved ones. It is for the people in these situations, that Shamangelic Healing is stepping forward to offer hope, support and solutions. It is time for new tools, new perspectives and new approaches to allow life transitions to be handled with grace, beauty, gratitude and awareness. Whether that is spreading ashes in Sacred Land Ceremony on the Red Rocks of Sedona, providing healing closure between those separated by death or bereavement support through the life transition process, Anahata is present with conscious, loving guidance.
During Private Sessions, which can be in person or over the phone, and Personalized Retreats, Anahata tailors a program of specific sessions to support the challenges an individual or family is facing. Core healing of any personal wounds, personal empowerment sessions, combined with sacred conscious transition/release ceremonies provide new perspective and valuable resources to re-establish harmony and vitality. Participants depart with a greater self of peace, positive perspective and practical tools to integrate into their lives along with ongoing counseling support to address any challenges.
The Shamanic Healer and Counselor Anahata, has trained extensively with gifted shamans, energy healers and spiritual teachers from Peru, India, Asia and North America in order to artfully integrate the fields of couple/family dynamics, energy healing, self-empowerment, shamanic teachings, emotional release, spiritual studies and visualization techniques. Blending the compassion and tenderness of an Angel and the wisdom and strength of a Shaman, Anahata guides journeys of profound healing and awakening. Her extensive client base spans the globe and includes business professionals, parents, couples, healers and individuals of all ages, who seek to heal and awaken their fullest potential.
Anahata is the founder of Shamangelic Healing based in Sedona, Arizona. Clients seeking Spiritual awakening, transformational healing services, bereavement/grief counseling, conscious relationship counseling, sacred land journeys or training courses, choose from a wide range of options in order to create a tailored personal experience. Anahata's Shamangelic Healing Sanctuary is nestled beneath Sedona's famous Thunder Mountain, with 360 degrees of breathtaking views, walking distance from an ancient medicine wheel and healing vortexes, making this the perfect setting for healing and expansion.
For detailed descriptions of the Bereavement/Grief Counseling Services, Shamanic Healing Sessions, Sacred Ceremonies, Sedona Land Journeys and Training Courses offered by Anahata visit http://www.ShamangelicHealing.com.