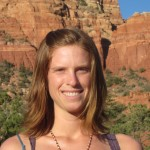 Anahata's courses offer foundational teachings for life! She is a true wisdom teacher who allows passion and humor to flow through in a graceful and informative way.
Sedona, Arizona (PRWEB) September 08, 2016
As the demand for useful and more convenient online conscious education courses increases, Anahata Ananda of Shamangelic Healing, Sedona, Arizona's Premier Center for Shamanic Healing and Spiritual Awakening, is now offering the Healthy Conscious Relationships course on New Kajabi, an online conscious education platform that is making resources for those seeking Empowerment & Awakening more accessible.
Healthy Conscious Relationships is part of her recently launched 5 Essential Courses for Empowerment and Awakening. The course explores practices and perspectives for attracting and maintaining healthy personal, family, intimate and professional relationships. Through 8 engaging videos shot in the breathtaking landscape of Sedona, Arizona, this course offers values tools and concepts for bringing higher levels of awareness into every type of relationship.
In this course people will learn methods and perspectives for healing troubled relationships and gain the necessary tools for maintaining healthy personal, family, intimate and professional. The coursework provides valuable tools and concepts for bring about a new level of awareness everyone can use for relating to their loved ones, friends and colleagues.
All courses also include a comprehensive handout in PDF format, simple exercises for continued practice and the option for phone counseling support.
For those who would prefer to learn in a live interactive setting, Shamangelic is offering the coursework at the Weekend Intensive for Empowerment & Awakening, October 6-9, 2016.
The Healthy Conscious Relationships course, and all online courses through Shamangelic Healing Center, are ongoing and accessible, offering a wide range of services to support conscious living.
Private Healing Sessions with Anahata are also available at the Shamangelic Healing Center where Anahata provides personal sessions in a safe and loving space for deep healing and spiritual awakening.
The Center also offers private retreats where visitors can choose from retreat packages such as the Relationship Health Retreat that provides participants tools to heal and improve their relationships, or the Vibrant Health Retreat for people wanting to increase their energy or who are experiencing a physical healing crisis.
Shamangelic Healing Center also offers Sacred Land Journeys. Anahata's Land Journeys help participants explore the powerful frequencies of Sedona's vortexes that potentiate healing and awakening in the natural beauty of Sedona's Red Rocks. Because every person experiences vortexes differently, Anahata also offers private sessions. In private sessions, Anahata works with the individual to tailor a Sedona vortex journey that provides a deeper personal understanding of vortexes and how a vortex can shift one's energy to meet specific healing and spiritual goals.
Shamanic Healer and Spiritual Counselor, Anahata Ananda, has trained extensively with gifted shamans, energy healers and spiritual teachers from around the world in order to artfully integrate the fields of spirituality, energy healing, self-empowerment and shamanic teachings. Her client-base spans the globe with individuals from all walks of life who are seeking to heal and awaken to their fullest potential.
The Shamangelic Healing Center is based in Sedona, Arizona. It is nestled beneath Thunder Mountain, with 360 degrees of breathtaking views and within walking distance to a medicine wheel and healing vortexes, making it the perfect setting for healing and expansion.
Inside, the retreat center's calm and relaxed environment helps to engage all of the senses, making it easy to settle into a session. Clients seeking Spiritual awakening, transformational healing services, counseling, sacred land journeys or training courses may choose from a wide range of options that can be tailored for the ultimate personal experience.
For detailed descriptions and a calendar of all training courses, private healing sessions and spiritual awakening services offered by Anahata visit http://www.ShamangelicHealing.com.