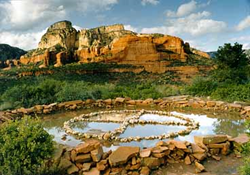 This course offered truth... this course made me feel inspired... - Mary Heaven
Sedona, AZ (PRWEB) December 21, 2015
For those looking for guidance with personal growth or who may be seeking a spiritual travel experience, there are four empowering retreats available in March 2016 at Shamangelic Healing Center in Sedona, AZ. These retreats, The Essential Courses in Empowerment & Awakening, Healing Tools, and Shamanic Wisdom Teachings, are based on the core curriculum of Anahata Ananda's healing practice. These courses were designed to support people that are feeling off-balance, lost, frustrated and ready to make a change in their life. Each course is packed with tools, practices and perspectives that provide anyone with simple implementable concepts to live an empowered and conscious life.
Providing participants with a soulful personalized experience that integrates the mind, body, and spirit is the primary intention behind these powerful courses facilitated by Anahata Ananda. There is a growing demand for meditation practices, Shamanic healing, spiritual retreats and sacred land experiences. The Essential Courses have been developed to fulfill this demand. Participants will reclaim their peace of mind, expand their consciousness, and experience new clarity in a supportive environment which is also enveloped by the surreal vistas of Sedona's red rock landscapes.
Below are the details of the course dates, prices and descriptions for the March 2016 Courses:
WEEKEND INTENSIVE FOR EMPOWERMENT & AWAKENING
March 17-March 20, 2016 | $695
These Ten Essential Courses provide the fundamentals for living a thriving and balanced life. Learn all about the chakras, divine feminine & masculine balance, clear boundaries, conscious relationships, meditation techniques, nutrition, working with spirit guides and much more.
HEALING TOOLS & MODALITIES
March 22-24, 2016 | $575
These courses are for those interested in the healing arts or for practitioners wishing to expand their services offerings to work with those with sensitive emotional issues. Explore a wide range of hands-on techniques and modalities for deep emotional clearing and chakra alignment.
*Prerequisite: Completion of Weekend Intensive
SHAMANIC WISDOM TEACHINGS
March 26-28, 2016 | $675
Explore, in depth, the soulful world of Shamanic Wisdom Teachings, ancient traditions, medicine wheels, sacred ceremonies, animal spirit guides, elemental wisdom teachings, and utilizing the powerful land energies of sacred Sedona
SHAMANGELIC BREATHWORK FACILITATOR TRAINING
March 29, 2016 | $225
Learn to facilitate one of the most powerful and sacred Shamanic Ceremonies for deep emotional clearing and spiritual activation.
*Prerequisite: Completion of Weekend Intensive + Healing Tools & Modalities
SPECIAL PRICING FOR MULTIPLE COURSES
The first three courses | $1750
All four courses | $1950
These courses are accessible and beneficial for anyone just beginning their spiritual journey to those who are well practiced in the healing arts. All are welcome to participate and the courses are offered a few times throughout the year with dates announced when available. Participation requires advance registration, along with a deposit, and can be done by contacting Anahata Ananda via email or by phone.
Anahata Ananda's Shamangelic Healing Center is based in Sedona, Arizona. It is nestled beneath Sedona's famous Thunder Mountain, with 360 degrees of breathtaking views, walking distance from an ancient medicine wheel and healing vortexes, making this the perfect setting for healing and expansion. Clients seeking Spiritual awakening, transformational healing services, conscious relationship counseling, sacred land journeys or training courses may choose from a wide range of options that will create a tailored personal experience.
For detailed descriptions and a calendar of the upcoming retreats, workshops, courses, and transformational healing and spiritual awakening services offered by Anahata Ananda, visit http://www.ShamangelicHealing.com