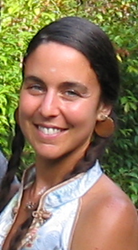 "Anahata is a powerful healer and has an exquisite way of working. I had the honor of receiving a Shamangelic Healing session and every insight and shift was spot on. Amazing! I feel so much has shifted and healed.
Sedona, Arizona (PRWEB) June 29, 2016
To meet the increasing demand for her Shamanic Healing, Training and Retreat Center's services, Anahata Ananda, founder of Shamangelic Healing, Sedona Arizona's Premier Center for Shamanic Healing and Spiritual Awakening, is excited to introduce the MindBody online calendar and appointment system to her clients.
Now, Shamangelic Healing's online booking makes it easy and convenient for guests to research types of sessions, availability and pricing during their visit, enabling them to conveniently reserve on the spot. To make an appointment online simply choose one of the services tabs and click on the Book Now menu link or go directly to the Book Now tab.
Among Shamangelic Center's many offerings are Shamanagelic Healing Land Journeys that include day hikes, shamanic ceremonies and adventures to powerful vortexes, mystical caves, Native American medicine wheels, ancient cliff dwellings, all among the captivating beauty of Sedona's Red Rocks.
Visitors can choose from guided journeys such as the Vortex Walk & Shamanic Medicine Wheel Ceremony. This 2-hour journey to some of Sedona's most spiritual vortexes allows participants to experience both Shamanic and Buddhist teachings of Spirituality and Sacred Wisdom by exploring the four elements of water, air, earth and fire and the four directions during a Sacred Medicine Wheel ceremony.
The Center also offers extraordinary personalized, custom tailored Land Journey adventures. Anahata is available to consult individually to craft an itinerary and modality package based on clients' needs.
Shamangelic Healing also offers Private Healing Sessions where, "with the wisdom and strength of a Shaman and the tenderness and compassion of an angel", Anahata provides personal sessions in a safe and loving space for deep healing and spiritual awakening.
With a menu of services such as Soulful Rejuvenation, Anahata empowers clients with tools and insights to facilitate profound and lasting shifts that enable their radiance to shine through, positively affecting all areas of their life. Private Soulful Rejuvenation sessions for example can include a 90-minute Chakra Clearing, Alignment and Expansion, Awakening the Divine Feminine, Opening to Self-Love, Tools for Healthy Family Dynamics, and many more healing and restorative sessions that give clients a focused, nurturing time and space for healing, expanding consciousness and soulful revitalization.
The Center also offers private retreats where visitors can choose from retreat packages such as the Relationship Health Retreat that provides participants tools to heal and improve their relationships, or the Vibrant Health Retreat for people wanting to increase their energy or who are experiencing a physical healing crisis.
Anahata also officiates weddings, vow renewal, life celebration, birth blessings and other types of sacred ceremonies at key locations throughout Sedona.
With the new MindBody online calendaring and booking system, it's now more convenient than ever before to reserve a place for healing, adventure, renewal and celebration with Anahata Ananda.
To book a Private Session, Land Journey, Group Courses, as well as Personal and Group Retreats, visit Shamangelic Healing's Book Now page and follow the instructions to sign up for an appointment or workshop.
Shamanic Healer and Spiritual Counselor, Anahata Ananda, has trained extensively with gifted shamans, energy healers and spiritual teachers from around the world in order to artfully integrate the fields of spirituality, energy healing, self-empowerment, and shamanic teachings. Her client-base spans the globe with individuals from all walks of life who are seeking to heal and awaken to their fullest potential.
The Shamangelic Healing Center is based in Sedona, Arizona. It is nestled beneath Thunder Mountain, with 360 degrees of breathtaking views, and within walking distance to a medicine wheel and healing vortexes, making it the perfect setting for healing and expansion. Inside, the retreat center's calm and relaxed environment helps to engage all of the senses, making it easy to settle into a session. Clients seeking Spiritual awakening, transformational healing services, counseling, sacred land journeys or training courses may choose from a wide range of options that can be tailored for the ultimate personal experience.
For those unable to attend or come to Sedona, Anahata has created online courses for the global audience with convenient 24 hour access to videos and self-paced exercises handouts that help explore the tools and practices to live a more empowered, balanced and conscious life.
To reserve a spot for a life changing Shamangelic Healing Center workshop, journey or private session, or for more detailed descriptions upcoming retreats, workshops, courses, and all services offered by Anahata Ananda and Shamangelic Healing, visit Shamangelic Healing.com