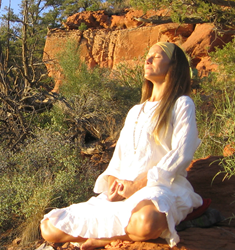 Meditation is the mysterious ladder which reaches from earth to heaven, from error to truth, from darkness to light, from pain to bliss, from restlessness to abiding peace, from ignorance to knowledge, from mortality, to immortality. ~Sivananda
Sedona, AZ (PRWEB) January 13, 2016
In answer to overwhelming demand, Sedona Arizona's Premier Center for Shamanic Healing and Spiritual Awakening Shamangelic Healing has just launched a new Online Course "Meditation Practices for Relaxation & Connection."
To help people manage the stress of daily life Anahata Ananda is now offering this insightful and practical Online Meditation Course. The "Meditation Practices for Relaxation & Connection" course provides easy yet powerfully effective techniques for achieving a deep state of meditation that helps one to restore, relax and feel better equipped with valuable skills for managing stress.
When practiced even for short periods, meditation supports physical, emotional, energetic, mental and spiritual well-being. Meditation also connects one to a higher divine perspective which enables one to see life more clearly. This course shares very simple tips and practices to help beginners or experienced meditators deepen their meditation experience.
The course includes 6 engaging videos plus a course handout and simple exercises to follow. People taking this course will come to realize that meditation is easier than they think! With these tips, it will be simple to experience the profound benefits of meditation. There are no pre-requisites for this course, and even first-time meditators will appreciate the clear content, simple explanations, and friendly insights.
People can further benefit from this Course if they, at times …

Feel overwhelmed with the stresses of everyday life
Are seeking greater meaning or purpose in your life
Feel lost, disconnected, unsupported or frustrated
Are curious about meditation or wish to deepen your current meditation practice
Yearn for more peace, tranquility and perspective
The "Meditation Practices for Relaxation & Connection" Online Course is one of ten courses which will be offered online.
Other exciting online courses include "Clear, Balance and Awaken Your Chakras," which provides tools and practices to improve health, relationships, increase confidence, and empower one's personal path and spiritual connection through proper chakra alignment. "Balancing the Feminine and Masculine Within," is a course to help identify healthy and unhealthy aspects within to bring awareness for growth opportunities and to reestablish a harmonious balance of masculine and feminine energies. Shamangelic Healing also offers "Tools for Maintaining Healthy Conscious Relationships," a dynamic online course that can help put an end to the chaos, drama and pain of unhealthy relationships. This course offers practices and perspectives to be a better communicator and respond with awareness and compassion to even the most challenging situations. Find these and other online courses at http://shamangelichealing.com/onlinecourses/
These 10 Essential Courses for Empowerment and Awakening are also offered in person in Sedona at the Shamangelic Healing Center. Check the website for upcoming course dates. Sedona's breathtaking beauty and healing energy vortexes provide the perfect setting for trainings and retreats.
Shamanic Healer and Spiritual Counselor, Anahata Ananda, has trained extensively with gifted shamans, energy healers and spiritual teachers from around the world in order to artfully integrate the fields of spirituality, energy healing, self-empowerment, and shamanic teachings. Her client-base spans the globe with individuals from all walks of life who are seeking to heal and awaken to their fullest potential.
The Shamangelic Healing Center is based in Sedona, Arizona. It is nestled beneath Thunder Mountain, with 360 degrees of breathtaking views, and within walking distance to a medicine wheel and healing vortexes, making it the perfect setting for healing and expansion. With a beautiful interior that integrates all of the senses, clients will feel relaxed and calm while settling into a session. Clients seeking Spiritual awakening, transformational healing services, counseling, sacred land journeys or training courses may choose from a wide range of options that can be tailored for the ultimate personal experience.
For detailed descriptions and a calendar of the upcoming retreats, workshops, courses, and all services offered by Anahata Ananda, visit http://www.ShamangelicHealing.com