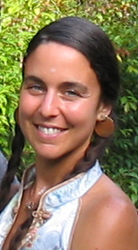 Anahata is a lighthouse guide who has assisted me lovingly and compassionately through the emotional bumps in life's journey.
Sedona, AZ (PRWEB) March 05, 2016
Anahata Ananda of Shamangelic Healing, Sedona, Arizona's premier center for Shamanic Healing and Spiritual Awakening, will be the premier featured presenter at the Sedona Yoga Festival, March 10-13, 2016. This year marks her third consecutive year as a featured presenter at the event, offering shamanic healing and spiritual awakening workshops to include a Sacred Land Journey Excursion.
The Sedona Yoga Festival, a "Consciousness Evolution Conference," promotes opportunities for transformation and expanded consciousness. Through yoga, meditation, sacred land journeys and other energy work, participants have a chance to deepen their spiritual practice among the healing energies of Sedona's renowned Red Rocks and energy vortexes. This year's event will be held at the Sedona Resort at Bell Rock.
Anahata will facilitate part of the evening opening/welcome ceremony on March 10th, along with musicians and other presenters. She will also facilitate a Sacred Land Journey Excursion, exploring two of Sedona's sacred vortexes, and a Medicine Wheel Ceremony on Sunday March 13th at 11am.
Anahata's Land Journeys help participants explore the powerful frequencies of Sedona's vortexes that potentiate healing and awakening in the natural beauty of Sedona's red rocks. Because every person experiences vortexes differently, Anahata is also offering private sessions to attendees after the festival. In these private sessions, Anahata works with the individual to tailor a Sedona vortex journey that provides a deeper personal understanding of vortexes and how a vortex can shift one's energy to meet specific healing and spiritual goals. The Medicine Wheel helps one to set their intentions and anchor their prayers into the Earth. During a Sacred Medicine Wheel Ceremony, participants will explore the ancient wisdom of the 4 Elements of water, air, earth and fire and the 4 directions for personal healing and intention.
During the festival, Anahata is also offering a workshop on "Conscious Relationships" on March 11th at 2pm. This workshop explores tools, practices and perspectives for keeping every type of relationship -- family, intimate, community or professional -- healthier and happier. In this workshop, participants will learn how to approach their most important relationships with clear communication, awareness and unconditional love.
Shamanic Healer and Spiritual Counselor, Anahata Ananda, has trained extensively with gifted shamans, energy healers and spiritual teachers from around the world in order to artfully integrate the fields of spirituality, energy healing, self-empowerment, and shamanic teachings. Her client-base spans the globe with individuals from all walks of life who are seeking to heal and awaken to their fullest potential.
The Shamangelic Healing Center is based in Sedona, Arizona. It is nestled beneath Thunder Mountain, with 360 degrees of breathtaking views, and within walking distance to a medicine wheel and healing vortexes, making it the perfect setting for healing and expansion. Inside, the retreat center's calm and relaxed environment helps to engage all of the senses, making it easy to settle into a session. Clients seeking Spiritual awakening, transformational healing services, counseling, sacred land journeys or training courses may choose from a wide range of options that can be tailored for the ultimate personal experience.
For those unable to attend on these dates or come to Sedona, Shamangelic Healing offers online training courses that are perfect for the practitioner wanting a refresher course or to deepen their own healing journey.
For more information on the Sedona Yoga Festival, go to sedonayogafestival.com.
For detailed descriptions and a calendar of more upcoming retreats, workshops, courses, and all services offered by Anahata Ananda, visit http://shamangelichealing.com/.