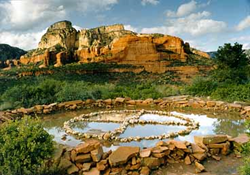 The love, caring & respect I felt was amazing and at all times I felt safe. The mastery that Anahata & Porangui brought was inspired & inspiring. Truly a transformative experience. - Charlie Bonnin
Sedona, AZ (PRWEB) January 12, 2016
Back by popular demand, the Shamanic Soul Retreat, led by Shamanic Guide Anahata Ananda and Brazilian Sound Healer & Musician, Porangui, is now taking reservations for the Spring 2016 session. A truly unique retreat in Sedona, AZ, this four-day journey runs from March 31-April 3 2016. It takes place at Anahata Ananda's Shamangelic Healing Center in the heart of Sedona's breathtakingly beautiful red rocks and famous energy vortexes.
Combine the retreat with the influence of the area's Native American culture, and it provides the perfect setting for this one-of-a-kind spiritual travel opportunity. Participants will integrate into the soulful world of shamanic wisdom, energy, healing & ceremony. This dynamic retreat is highly interactive for anyone interested in experiencing beautiful music, sacred land journeys and ancient ceremonies with two of the most respected shamanic guides in Sedona. Below are details of the Shamanic Soul Retreat which is in a small group setting.
For those traveling to Sedona who are seeking private sessions with Anahata Ananda, she can custom tailor a variety of Land Journeys along with Shamanic Journey teachings.
Shamanic Healer and Spiritual Counselor, Anahata Ananda, has trained extensively with gifted shamans, energy healers and spiritual teachers from around the world in order to artfully integrate the fields of spirituality, energy healing, self-empowerment, and shamanic teachings. Her client-base spans the globe with individuals from all walks of life who are seeking to heal and awaken to their fullest potential.
The Shamangelic Healing Center is based in Sedona, Arizona. It is nestled beneath Thunder Mountain, with 360 degrees of breathtaking views, and within walking distance to a medicine wheel and healing vortexes, making it the perfect setting for healing and expansion. With a beautiful interior that integrates all of the senses, clients will feel relaxed and calm while settling into a session. Clients seeking Spiritual awakening, transformational healing services, counseling, sacred land journeys or training courses may choose from a wide range of options that can be tailored for the ultimate personal experience.
For detailed descriptions and a calendar of the upcoming retreats, workshops, courses, and all services offered by Anahata Ananda, visit http://www.ShamangelicHealing.com