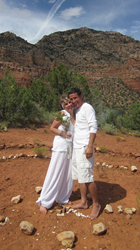 Anahata is a sweet wise angel. She provided us the wisdom and motivation to continue our deep self discovery and the love we have for each other.
Sedona, AZ (PRWEB) March 15, 2016
A new personal relationships paradigm is birthing. To support this shift in awareness and to help create Healthy Conscious Relationships between couples, Anahata Ananda of Shamangelic Healing, Sedona, Arizona's premier center for Shamanic Healing and Spiritual Awakening, is now offering Retreats, Counseling and Workshops for Couples this spring, held April – June, 2016.
During personalized Healthy Conscious Relationships Retreats, Anahata tailors a program of specific private and joint sessions to support whatever challenges a couple may be facing. Core healing of any personal wounds, coupled with sacred land journeys and empowerment sessions all provide new perspectives and valuable resources to re-establish trust and mutual respect between couples. Participants will learn how to expand the capacity of their hearts to give unconditional love, establish clear boundaries and rewrite unconscious agreements.
By offering a wide range of services to support couples wanting to maintain Healthy Conscious Relationships, Shamanic Teacher and Spiritual Counselor Anahata Ananda offers couples a chance to heal, learn and grow together through these engaging and revitalizing spring retreats.
Whether a couple is struggling with communication, commitment and healthy bonding, or simply wanting to grow, deepen and expand their relationship, these tailored retreats offer a powerful opportunity for realizing lasting change. Retreats include various private sessions, land journeys to experience sacred Sedona, counseling sessions with Anahata that give couples tools to support a healthy relationship, a Conscious Relationship session, and a Commitment Ceremony for deep healing. Retreats range in duration from 1-5 Day sessions.
As a growing number of couples become disenchanted with traditional couples counseling, more are turning to this type of alternative approach for deep soulful healing, empowering communication and behavioral tools and lasting results. Sedona, Arizona with its lovely spring flowers and Sedona Red Rocks provide couples a beautiful and dynamic landscape for doing the work of conscious progressive healing.
Participants will depart with practical tools to integrate into their lives, along with ongoing counseling support for addressing any issues that arise after the retreat and to ensure the concepts are implemented.
To complement the work couples will do at the retreat, Shamangelic Healing also offers an online course for Maintaining Healthy Conscious Relationships.
Shamanic Healer and Spiritual Counselor, Anahata Ananda, has trained extensively with gifted shamans, energy healers and spiritual teachers from around the world in order to artfully integrate the fields of spirituality, energy healing, self-empowerment, and shamanic teachings. Her client-base spans the globe with individuals from all walks of life who are seeking to heal and awaken to their fullest potential.
The Shamangelic Healing Center is based in Sedona, Arizona. It is nestled beneath Thunder Mountain, with 360 degrees of breathtaking views, and within walking distance to a medicine wheel and healing vortexes, making it the perfect setting for healing and expansion. Inside, the retreat center's calm and relaxed environment helps to engage all of the senses, making it easy to settle into a session. Clients seeking Spiritual awakening, transformational healing services, counseling, sacred land journeys or training courses may choose from a wide range of options that can be tailored for the ultimate personal experience.
For those unable to attend on these dates or come to Sedona, Shamangelic Healing offers a variety of online training courses that are perfect for the practitioner wanting a refresher course or to deepen their own healing journey.
For detailed descriptions and a calendar of more upcoming retreats, workshops, courses, and all services offered by Anahata Ananda, visit http://shamangelichealing.com/