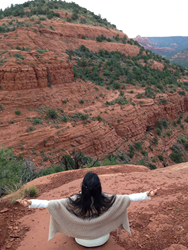 'Anahata has given me hope for how I wish to live my life and confidence that I can do it!' – Anna Maguire
Sedona, AZ (PRWEB) November 30, 2015
The holiday season can be a time of abundant happiness and tradition for many people. However, for many others, the season can mean stress, anxiety, loneliness and depression. It is not uncommon for emotional triggers to be set-off during the holidays from unhealthy family dynamics or, on the opposite end of the spectrum, enduring the holidays without any close family ties. To service those in need of a healthy alternative to survive and thrive during the holidays and into the new year, Anahata Ananda of Shamangelic Healing Center, offers custom tailored packages that will focus on personal wellness and rejuvenation.
Set within the stunning red rock landscapes of Sedona, AZ, The Shamangelic Healing Center is the perfect location for people to recharge their batteries and gain new perspectives on personal issues or challenges. Anahata Ananda can work with individuals looking for a private healing retreat or with couples who would like to share time together to reconnect. Winter getaway packages are bundled to accommodate the goals, desires, and budget of each client. Anahata will initially consult with the client via phone or email to put together the perfect combination of healing services that will maximize the benefits of their retreat.
Below are some of the available packages:
Transformational Healing Retreat
For those who are feeling lost or depressed but want to realign themselves to shift and clear negativity, this package will help clients to heal and release. Possible services included in this type of retreat are chakra balancing, a session on healing family lineage, a vortex walk and medicine wheel ceremony, and exploring new horizons. In this package, couples can enjoy a counseling session, exploration of conscious relationships, and learning the tools needed for healthy family dynamics.
Vibrant Health Retreat
So many people make New Year's resolutions to improve their health. This retreat will help anyone stick to those goals and start 2016 on a positive note. This retreat can be for a single person or a couple making the resolutions together. Retreat highlights can include learning about Shamanic Nutrition by utilizing the four elements, a soulful 2-4-hour fitness adventure out on the land, a deep relaxation session on the Amethyst Crystal Biomat, and a session to learn how to manifest dreams into reality.
Soulful Rejuvenation Retreat
This retreat is particularly excellent for those feeling exhausted and stressed and are looking for a boost to their overall well-being. It is also a wonderful way to explore one's true purpose and realign with a deeper, soulful path in life. Retreat highlights can include a 2-hour Shamanic Soul Journey, a spiritual card reading, a private meditation session, and an energizing vortex journey.
Relationship Health Retreat
For couples wishing to realign or for an individual who seeks to improve any relationships in their lives, this retreat can help with frustrations, traumas, loss, and healing. Modalities for this retreat might include healing deep wounds, a Shamangelic Breathwork ceremony, learning to clear boundaries, focusing on self-love, and a cathartic birthing cave experience. This retreat is filled with valuable tools and experiences that will reset consciousness.
These are only a partial list of services offered by Shamangelic Healing Center to provide a sampling of the endless possibilities available to clients. Each retreat will be completely unique to each person and tailored by contacting Anahata Ananda to create the journey. These retreats will be the ultimate way to beat the winter blues or can even be the start a new holiday tradition that truly puts spirit into the season.
Anahata Ananda's Shamangelic Healing Center is based in Sedona, Arizona. It is nestled beneath Sedona's famous Thunder Mountain, with 360 degrees of breathtaking views, and within walking distance to a medicine wheel and healing vortexes, making it the perfect setting for healing and expansion. With a beautiful interior that integrates all of the senses, clients will immediately feel relaxed and calm while settling into a session. Clients seeking Spiritual awakening, transformational healing services, conscious relationship counseling, sacred land journeys or training courses may choose from a wide range of options that can be tailored for the ultimate personal experience.
For detailed descriptions and a calendar of the upcoming retreats, workshops, courses, and transformational healing and spiritual awakening services offered by Anahata Ananda, visit http://www.shamangelichealing.com