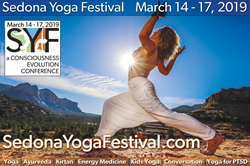 Balance your body with nature to manifest a thriving life!
SEDONA, Ariz. (PRWEB) November 28, 2018
Shamanic healer and soul guide, Anahata Ananda is offering two workshops at the upcoming Sedona Yoga Festival, a leading industry yoga conference amidst the red rocks and energy of Sedona, Arizona. Now in its 7th year, this event, open to the public, offers an entry point to authentic yoga for true seekers. Presenters locally, and from around the world, offer over 200 total classes, events, workshops, and performances for every level of yogi, from the absolute beginner to master teacher. This year's yoga conference takes place at the Sedona Performing Arts Center on the grounds of the Sedona Red Rock High School.
This year, Anahata will offer her Vortex Medicine Wheel Journey and a workshop on Quantum Manifestation during the event. "Re-connecting to nature, appreciating the beauty of our surroundings, switching off from our fast-paced lives and disengaging from our gadgets, reminds us just how easy and important it is to drop into this state of being as often as we can," Anahata points out. She shares with her students and clients, various ways to achieve this in order to live a more proactive, and less reactive, life.
Land journey participants will experience a beautiful spiritual energy vortex for deep healing and spiritual awakening and a Native American medicine wheel. Anahata will teach how to incorporate the Shamanic wisdom of the four elements, four directions, and four seasons at the Medicine Wheel. She will also share the symbolism of the consecrated Buddhist Stupa relative to world peace, meditation and the embodiment of Buddha.
During her workshop on Quantum Manifestation, attendees learn, dance and dive into ways to create a thriving, radiant life they love. She shares scientific, proven strategies to manifest goals into reality. "We will take an honest look at some of the habits steering us away from shining our talents brightly out into the world," says Anahata. People will leave with a roadmap and tools to apply and integrate into their lives.
The Sedona Yoga Festival's convenient location and flexible conference structure allows participants to experience all that the Festival and surrounding Sedona has to offer. Sessions will range from quiet meditation to rockin' vinyasa, performances, experiential journeys, conscious conversation land hikes, and deep classical yoga and Vedic studies. For tickets and the final session schedule visit, http://sedonayogafestival.com/
In addition to her workshops at the Sedona Yoga Festival, Anahata is available for private Shamangelic sessions during the three-day event. Her signature two-hour Shamangelic Healing Journey is tailored to meet the client's most pressing needs and can result in profound shifts in awareness and personal empowerment. Anahata uses a combination of Shamanic tools, energy healing techniques, guided visualizations, essential oils, and vibrational sound to facilitate transformational healing and energetic blockage removals. Clients seeking spiritual awakening, transformational healing services, conscious relationship counseling, sacred land journeys, specialized retreats, or training courses may choose from a wide variety of options to create a tailored, personal experience. Due to high demand, Festival attendees are encouraged to book their session well in advance either online or by calling (928) 963-4553.
Anahata Ananda is a Shamanic Healer, Soul Guide and founder of Shamangelic Healing. She blends the compassion and tenderness of an Angel and the wisdom and strength of a Shaman to guide profound journeys of core healing and spiritual awakening. Anahata has guided thousands of individuals from all walks of life through core life shifts, helping them to turn their life around and create the life of their dreams. She masterfully creates a safe and loving space for inward transformational journeys that empower individuals to release their fears, open their hearts and reclaim their power. She has trained extensively with gifted Shamans, energy healers and spiritual teachers from North America, Peru, India and Asia in order to artfully integrate the fields of self-empowerment, Shamanic teachings, emotional release, energy healing, relationship counseling, spiritual studies, yoga, meditation and empowered living.
For detailed descriptions and a calendar of all training courses, retreats and spiritual awakening services offered by Anahata at Shamangelic Healing visit http://shamangelichealing.com/.