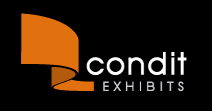 Denver, CO (PRWEB) October 22, 2013
Condit Exhibits, an international exhibit company specializing in the design, fabrication, management, and installation of custom trade show exhibits, hired Shannon O'Mahony as Senior Account Executive and Digital Strategist. O'Mahony will work with Condit's corporate clients to develop custom exhibits for leading trade shows across the world. With a focus on creative execution, Shannon also specializes in corporate briefing centers and lobbies.
Shannon brings valuable relationships to Condit developed with over years of experience in the exhibits and trade show industry. "The best reward is when a client tells me they received a raise or a promotion… I love hearing that! The collaborative process of developing custom exhibits for clients at trade shows and for unique corporate centers and lobbies is equally rewarding. To see the final exhibit come together from its initial design makes us so proud," said Shannon.
Mike McGowan, owner of Condit, added that Shannon's digital expertise will add another layer of value to Condit's exhibit clients seeking to leverage new technologies with trade show exhibits. "Shannon always rises to the creative challenge. She will add another dimension to our team and help expand our exhibit technology and lead generation offers. The entire team is very excited about her joining the company," said McGowan.
About Condit Exhibits:
Condit Exhibits leverages its international footprint and the insights and experiences developed over its 60-year history to assist global clients with all of their exhibition challenges. By staying on the bleeding edge of the trade show and exhibit technology, Condit Exhibits can design and build multi-dimensional exhibitions, environments, studios, and digital spaces. Condit Exhibits specializes in the design, fabrication, management, and installation of trade show exhibits, exhibitions, events, museum exhibits, visitor centers, real estate sales centers, television studio sets, corporate lobbies, kiosks, and three dimensional marketing environments of any kind. For more information, visit the Condit Exhibits website or call +1.800.541.6308