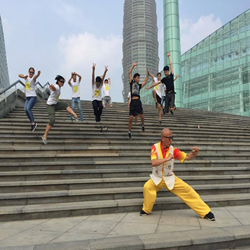 We have made special efforts to help people with autism, ADHD, PTSD and advanced stages of cancer.
Atlanta, GA (PRWEB) November 28, 2016
Shaolin Chan Foundation (SCF) will host a fundraising event at the 29th US Open Challenge with Shaolin KungFu and Exciting Fighting Show to help children who are in need of self-empowerment and academic education and raise health awareness one community at a time.
Shi DeRu SCF Chairman, Grandmaster Shi DeRu will give a short Chan (Zen) speech and meditation at 10:00 AM on Saturday morning as opening ceremony, December 3rd.
The main event will start at 6:30pm on December 3rd, Roswell Community Center, 11516 Woodstock Road, Roswell, GA 30075.
In cooperation with the 29th US Open Challenge, the SCF will auction off a variety of items, including private lessons at Shaolin Institute, worldwide seminars and sppeches led by the Chairman Shi DeRu, KungFu weapons, Chinese artwork, Penjing (bonsai) and a special New Year gift.
In addition to the auction, all proceeds from the US Open after party dinner will go to benefit the foundation.
With the support of the local community, the SCF has been able to continue carrying on its mission to teach ancient wisdom of Chan (Zen) to broad audiences and empower people with physical and spiritual Chan practices.
As the SCF Chairman DeRu said, "We have made special efforts to help people with autism, ADHD, PTSD and advanced stages of cancer. The results are promising. Some people have begun to function normally and start a good life; others are overcoming deadly diseases and living each day with new energy and renewed hope."
In the last three decades, Grandmaster DeRu along with his team has provided an estimated value of over $5 million in financial aid, quality education and Qi and nutrition treatment services to countless needy children, schools, patients and charity organizations, such as Red Cross and St. Jude Hospital.
With the support of Shi DeRu and his SCF team, many students in the US have had the opportunity to learn Chinese, Zen meditation, health wellness training and character based leadership. Some were able to attend college through DeRu's foundation scholarships, and others had the opportunity to enhance their studies in China through multicultural exchange programs.
Additionally, the foundation has provided financial support to several Chinese primary and secondary school students in poverty-stricken areas of Henan and Sichuan.
About SCF
Shaolin Chan Foundation (SCF), also known as the Shaolin World Foundation, is a 501(c)(3) International Non-Profit Organization. The foundation aims to carry forward and promote the ancient Shaolin Chan Buddhist philosophy and spread the wisdom of Chan culture, peace and compassion worldwide.
Under the leadership of the SCF Chairman, the 31st generation Shaolin Grandmaster Shi DeRu, SCF delivers a unique experience, inspiring and empowering each individual to unveil their greatest potential through Zen freedom of the body and the mind.
For more information: (770)286-9808 ksfworld.org, shaolinchanfoundation.org