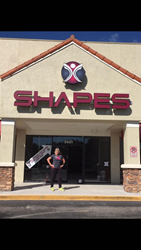 Tampa, Florida (PRWEB) December 14, 2016
Shapes Fitness For Women is no stranger to the Sarasota community or to the Tampa Bay area. Shapes has been helping women with fitness goals and weight loss since 1990 and the newest location will on December 15th in Sarasota at 5451 Fruitville Road.
"We are so excited to be back in Sarasota," said Gail Hodge, Owner and Operator of Shapes in Sarasota. "The community has been terrific and our presale activity has been off the charts. We are looking forward to helping women reach their health and fitness goals and do it in a center that is 100% devoted to the needs of women."
Debbie Stewart, President and CEOP of Shapes Franchising have been an integral part of the growth of Shapes during the past few years. "We have created an environment where women feel safe and comfortable. Our goal is to help women achieve results in overall health and wellness and Sarasota is next market where our services are needed."
The Opening Day schedule includes a full day of activities and Sneak Peaks of some of the programs Shapes has to offer members including: Butts-n-Gutts, Zumba, Cardio and Core, just to name a few. For additional information you can visit our Website or call 941-341-9278.
About Shapes Fitness For Women Franchise
Headquartered in Tampa, Florida, Shapes Fitness For Women operates women's only fitness centers. The system currently operates 7 centers in the Tampa Bay area. A Shapes center typically operates in 7,000 – 9,000 square feet and has been the dominant player in the women's only boutique fitness space since 1990; For additional information visit our Franchise Website.