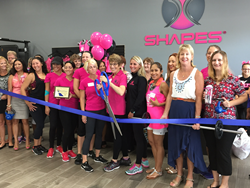 The Riverview community has been terrific and we are so excited to be here
Tampa, Florida (PRWEB) July 18, 2016
Shapes Fitness For Women is no stranger to the Tampa Bay community. They have been providing women's only fitness centers in neighborhoods since 1990. This Wednesday, July 20th—they will celebrate the opening of the newest Shapes facility in Riverview, Florida located at 11317 Big Bend Road.
"We are so excited to be in Riverview." Said Ann Gilbert, President of Shapes in Riverview. "The community has been terrific and if the initial response to membership is any indication—Shapes will be improving the health and fitness levels of many women in our community." Shapes were founded on the idea that women want to exercise in facilities that were tailored to their needs. Shapes facilities have state-of-the-art equipment, personal training, group fitness classes and small group training.
"Shapes has created an environment where women could feel comfortable and safe." Said Debbie Stewart, President and CEO of Shapes Franchising. "Our goal is to help women achieve real results in overall health and wellness and our Riverview location already has nearly 1,500 members."
The Grand Opening schedule includes a full day of activities and Sneak Peaks at all the programs that Shapes has to offer including: Mother/Daughter Yoga Flow, Pump, Bop Till You Drop Eighties Dance Party and much more. You can find more information on the days events at http://shapesfitness.co/riverview/. You can contact the location directly at 813.672.6343.
About Shapes Franchise
Headquartered in Tampa, Florida, Shapes Fitness For Women operates women's only fitness centers. The system currently operates 6 centers in the Tampa Bay area and will soon be opening in Sarasota. A shapes center typically operate in 7,000-9,000 square feet and has been dominant player in the women's only boutique fitness space since 1990. For information on the shapes franchise system visit the franchise website at http://www.shapesfranchising.com.