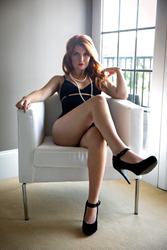 Putting on your Vera Vasi™ bodysuit is very much like sliding on your wedding ring for the first time. It will truly change your life.
Atlanta, GA (PRWEB) November 06, 2014
Vera Vasi, the world's most innovative shapewear, is saying "yes" to dress the bridal market. The versatile and comfortable shapewear is helping brides, bridesmaids and wedding attendees to lose a dress size, look great and stay cool. With its patented fabric, the shapewear is already receiving attention from top names in the bridal industry.
Vera Vasi uses science-based, clinically-studied shapewear technology with an exclusive, patented fabric to offer the best in shaping power and comfort. Like a second skin, Vera Vasi foundation garments are comfortable enough for brides, attendants and guests to wear all day long. They can even replace undergarments, leaving a smooth silhouette.
For bridal parties, Vera Vasi offers made-to-measure garments suited to fit any body type. A variety of styles are designed to complement different dress cuts and silhouettes. The unique fabric keeps brides cool, dry and self-assured in any setting. As an added bonus, the shapewear helps with posture, on a day full of standing, dancing and posing.
"Think of a compression garment as your wedding ring," said Vera Watkins, owner and founder of Vera Vasi. "How long have you been wearing your ring without thinking about it? Now look at how it's been gently and permanently compressing your ring finger, actually changing the thickness of your finger. Putting on your Vera Vasi™ bodysuit is very much like sliding on your wedding ring for the first time. It will truly change your life. Vera Vasi foundation garments are the perfect investment to ensure that any dress makes you look your best!"
Vera Vasi shapers have recently caught the attention of some of the top names in the bridal industry and popular fashion reality shows. With holiday parties just around the corner, Vera Vasi shapewear is a great choice to help women of all ages and sizes look fantastic in a party dress
To review the new Vera Vasi™ Shapewear line, please visit http://www.veravasi.com
ABOUT VERA VASI™ SHAPEWARE
Vera Vasi ™ is a high-end luxurious shapewear brand focused on improving the lives of women through providing proven benefits with patented fabric. Vera Vasi was born to extend The Marena Group's mission of improving peoples' lives into the bridal and shapewear markets. For 20 years, The Marena Group, Inc., co-founded by Vera Watkins, has manufactured exclusive medical-grade compression garments. Production began out of the couple's home garage and by 2001 the company received the Small Business Exporter of the Year award from the state of Georgia. Marena continued to expand, receiving accolades and awards from industry experts and agencies, being named apparel manufacturing Grand All Star of 2006 by Apparel magazine. Today, with representation in 79 countries, Marena and its family of brands is recognized as the world's leading medical-grade compression garment manufacturer. For more information, please visit http://www.veravasi.com