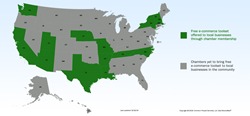 If there's ever going to be a credible challenge to Amazon's leadership in online retail, this is it.
Beaverton, Oregon (PRWEB) September 28, 2016
Chambers in 15 states are helping members save costs and enhance online capabilities through instant access to advanced shopping cart capabilities for local sales and marketing, at no additional cost. Select chambers are also pursuing a bold vision to build a real-time database of all local businesses, goods, services, and promotions, and to launch their community's own search engine, local deals marketplace, loyalty program, and local shopping mall - the chamber's SharedMall.
"SharedMall brings groundbreaking innovation for chambers to increase relevance in the community. It fits our needs to provide benefits to our members that do not require in-person participation," says Anne Glasscock, CEO, Kaufman Chamber of Commerce in Kaufman, TX.
Kaufman Chamber of Commerce and The Okemo Valley Regional Chamber of Commerce are among the notable chambers leading the pace of innovation with an accelerated approach to launch their respective SharedMall, and taking on the additional challenge of bringing the entire state in scope.
"SharedMall is a powerful growth engine for the chamber and its members," says Marji Graf, CEO, Okemo Valley Regional Chamber of Commerce. A preliminary version of a sample rendition of the consumer-facing side of Okemo Valley Regional Chamber's SharedMall is available for preview at http://www.sharedmall.com/page/OVCMall-Shop.html.
Pre-paid and on-demand fresh produce orders for pickup and home-delivery enabled on the website of The Farmers Daughter CSA in CA, bakery pre-orders for Forest Fairy Bakery in WA, custom design orders for Ann N Eve Western Women's Wear in CA, consultation-based service engagements for Kaufman Construction Group in TX, training class registrations for TMAC - Gulf Coast in TX, and online leads for Cedar Hills Continuing Community Care for seniors in VT are a small sampling of the diverse range of business industries that are now able to tailor a common e-commerce platform to their specific needs, and simultaneously participate alongside retailers in an online marketplace, for the first time ever.
"This is a great perk for any member," says Scott Blair, owner of the Southern Pie Company in Chester, VT, and a member of the Okemo Valley Regional Chamber of Commerce.
Dr. Michael Sanders is the Director of West Texas TMAC and a master strategist in lean consumer-driven business practices and business growth models. He opined that local businesses and their communities must all come together as one, locally and nationwide, in order to thrive online in a consumer-driven economy. "SharedMall brings a new ray of hope for local businesses by enabling exactly that," said Dr. Sanders. "If there's ever going to be a credible challenge to Amazon's leadership in online retail, this is it."
Select chambers in Arizona, California, Nebraska, Texas, and Vermont are fast-tracking their mall development by partnering with SharedMall to further incentivize up to 50 businesses from each state with zero-cost online storefront setup services, through the end of Oct. 2016. Businesses across the US are encouraged to visit SharedMall.com and engage with a local chamber on new opportunities to save on e-commerce costs and grow.