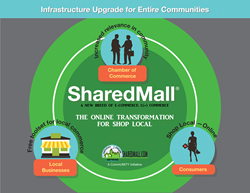 Technology, cost, and resource limitations are no longer barriers for small businesses seeking to grow
Ludlow, VT (PRWEB) September 06, 2017
Under a bold Shop Local initiative, the Okemo Valley Regional Chamber of Commerce is bringing Vermont residents new reasons to shop local, and enabling Vermont businesses with new tools and resources to differentiate and grow.
The chamber has launched OVRCCMall.com, where resident businesses can join instantly and make it easier for shoppers to find, locate, and transact locally and beyond, in this first of its kind one-stop-shop regional shopping marketplace deployed on SharedMall.com.
"SharedMall is one of the best avenues to expand your business. My experience with SharedMall and the associates has been a pleasure," says Anette Sarkissian, Owner of Ann N Eve Designer Western Wear Collection.
Businesses across any industry can readily launch independent storefronts and simultaneously have their goods and services searchable in the marketplace, irrespective of current online capabilities.
"Technology, cost, and resource limitations are no longer barriers for small businesses seeking to grow online, as we are significantly lowering online costs and guaranteeing lowest cost e-commerce access on SharedMall," says Jatin Patro, Owner, Common People Services, LLC.
Vermont residents seeking to shop local with new online conveniences and savings can now shop at the chamber's marketplace and avoid shipping costs and delays, schedule services online along with retail and fresh goods orders, and earn cash rewards for shopping from any resident business listed on OVRCCMall.com.
"It's very user friendly for me and my customers and showcases our products great on our website," attests Scott Blair, Owner of The Southern Pie Company in Vermont.
Marji Graf, CEO of the Okemo Valley Regional Chamber of Commerce is leading the pace of innovation for chambers across the nation through this bold initiative. "We're just getting started and urge all Vermont businesses to get listed and Vermont residents to shop local first at OVRCCMall.com, and for all Vermont chambers to join us in transforming the online landscape to favor our collective community and economy," Graf said.