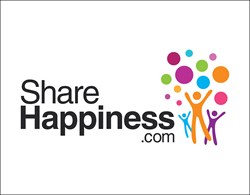 Miami, FL (PRWEB) September 26, 2013
ShareHappiness launched its new online platform to merge the experts in the science of happiness with the general public. A recent academic study featured in The Economist shows "that the more someone uses Facebook, the less satisfied he is with life." Social media is proving to have a negative impact on personal well-being; ShareHappiness seeks to shift this effect by focusing on the positive aspects of life.
The new site features information from leading academics and experts in well-being in its extensive Learning Center, which highlights educational content covering exciting developments in the science of happiness. It offers tools and applications based on scientific studies that increase well-being, like the Happiness Journal where one can express gratitude and the Causes section where one can give back and gain support. It all happens in an atmosphere where users can make healthy social connections, share positive moments through pictures, posts, and videos, follow others' experiences, hear directly from the experts, and grow a personal happiness network.
An online space where anyone can go to find out about happiness and become happier, ShareHappiness is a place for professionals and non-professionals to be involved in a conversation about how to improve life satisfaction, relationships, health, success, and overall well-being. ShareHappiness is shifting the way users will feel after spending time on social media, making it an informative and positive experience.