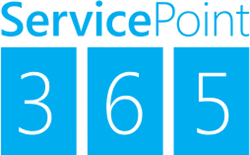 ServicePoint365 helps Office 365 customers leverage SharePoint Online by providing a ready-made environment complete with an intuitive information architecture and simple end-user navigation
Peachtree Corners, GA (PRWEB) February 25, 2015
Cloud|AG announces it will soon begin shipping new features for ServicePoint365 that will unlock the value of SharePoint Online for Office 365 customers. These features will make it easier for customers to create user-defined workspaces or sites for a variety of needs within a business.
ServicePoint365 is a SharePoint template application designed to support the collaboration and content management needs of organizations, project teams and individuals while eliminating the need for deep SharePoint skills. ServicePoint365 makes it easy for teams to work together and share critical business information on SharePoint sites. Colleagues and customers can access the documents they need from virtually anywhere. With your documents and information managed in one place, everyone has access to the latest version.
"SharePoint Online is a component of Office 365 capable of providing companies with a single integrated strategy for managing and securing business document. Unfortunately, many small and medium-sized companies shy away from fully utilizing SharePoint Online because of the effort or skill needed to set it up correctly. ServicePoint365 helps Office 365 customers leverage SharePoint Online by providing a ready-made environment complete with an intuitive information architecture and simple end-user navigation," said Michael Ganote, VP of Sales at Cloud|AG.
About Cloud|AG
Cloud|AG provides products and services designed to assist companies of all sizes maximize the power and flexibility of Microsoft's Office 365 and Azure cloud platform. For additional information, contact Cloud|AG at info(at)cloudag(dot)com, (855) 256-8324, or visit http://www.cloudag.com. All product and company names herein may be trademarks of their registered owners.