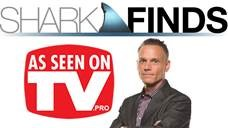 It was highly informative to speak with the experts on The Big Pitch Radio.
St. Petersburg, FL (PRWEB) April 09, 2016
Shark Finds and Kevin Harrington are proud to announce that Lawn Lights was recently featured on the popular Big Pitch Radio program.
Lawn Lights inventor Mark Halter joined hosts Kevin Harrington and Marla Tabaka, America's most sought-after business coaches to market the easy to assemble yard decorations.
Lawn Lights are designed for those who want to create an extraordinary and unique nighttime display with very little time, money, or effort. Lawn Lights are relatively inexpensive and easy to install without tools, ladders, or extension cords. The result is an attractive and classy display that glows at night and blends into the lawn during the day. The product is made with safe, UL-listed, sealed, waterproof LEDs that use less energy than a nightlight to produce a warm white light, with no annoying flicker effects.
Big Pitch Radio host Tabaka is a successful entrepreneur who ran several businesses before hiring a business coach. From then on, she learned how to coach other entrepreneurs. She has been featured on several major television networks and magazines.
As part of its DRTV campaign with AsSeenOnTV.pro, Lawn Lights will be appearing in 30 and 60 second spots set to air nationwide and feature the original Shark himself, Kevin Harrington. AsSeenOnTV.pro is comprised of an award-winning team of producers, writers, videographers, and editors as well as industry veterans dedicated to finding the latest, most innovative products and ideas, and putting them on the DRTV map. For more information on Lawn Lights, please visit http://www.LawnLights.com.
About Kevin Harrington
As the inventor of the infomercial, founder of As Seen on TV, and one of the original Sharks on Shark Tank, Kevin Harrington has worked with some of the world's biggest celebrities and launched some of the best-selling DRTV campaigns in history. Since producing his first 30-minute infomercial in 1984, Harrington has been involved in over 500 product launches that have resulted in over $4 billion in sales. Now, in his latest venture with AsSeenOnTV.pro, Harrington is on the hunt for the best new products and ideas, bringing them to homes everywhere through personalized DRTV campaigns featuring the Shark.
About AsSeenOnTV.pro
Headquartered in Florida, AsSeenOnTV.pro is a full-service production, branding, and marketing company specializing in highly visible campaigns in direct response television.
About Shark Finds
The Shark Finds creative team guides these spots from script phase to screen-ready stage to final airing. The Shark Finds team has produced millions of dollars worth of broadcast placements in just over two decades, with the help of their regional and national relationships.