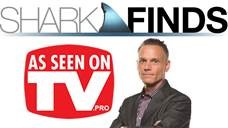 The team at Shark Finds and AsSeenOnTV.pro DRTV is truly dedicated to my success. The Big Pitch Radio interview was fun, and it allowed me to reach out to potential investors and explore ways for less expensive manufacturing. Lisa Puskas, Bellybands.tv
St. Petersburg, FL (PRWEB) February 16, 2016
Shark Finds and Kevin Harrington, along with the DRTV specialists from AsSeenOnTV.pro are proud to introduce that Belly Bands was recently featured on the nationally-known Big Pitch Radio program. Inventor Lisa Puskas joined hosts Marla Tabaka and Jason Garey to market the innovative bands which prevents pets from urinating in the home. "The Big Pitch Radio interview was fun, and it allowed me to reach out to potential investors and explore ways for less expensive manufacturing", said Puskas.
Perfect for puppies, older dogs and rescue pets, Belly Bands prevents accidently wetting on carpets, rugs and furniture. The bands for dogs are available for purchase in both boy and girl patterns. The useful products not only prevent incontinence, accidents, and territorial marking, it also helps train dogs to stop wetting. Belly Bands let man's best friend be a part of the family again.
"Being a part of Shark Finds and AsSeenOnTV.pro DRTV campaign has been an amazing experience. It has helped me to build my brand and receive media coverage that I would not have been able to receive otherwise", stated Lisa Puskas of Bellybands.tv. "They are truly dedicated to my success."
About Kevin Harrington
As the inventor of the infomercial, founder of As Seen on TV, and one of the original Sharks on Shark Tank, Kevin Harrington has worked with some of the world's biggest celebrities and launched some of the best-selling DRTV campaigns in history. Since producing his first 30-minute infomercial in 1984, Harrington has been involved in over 500 product launches that have resulted in over $4 billion in sales. Now, in his latest venture with AsSeenOnTV.pro, Harrington is on the hunt for the best new products and ideas, bringing them to homes everywhere through personalized DRTV campaigns featuring the Shark.
About AsSeenOnTV.pro
As part of the media campaign with AsSeenOnTV.pro, participant products will appear in 30 and 60 second spots set to air nationwide and feature the original Shark himself, Kevin Harrington. AsSeenOnTV.pro is comprised of an award-winning team of producers, writers, videographers, and editors as well as industry veterans dedicated to finding the latest, most innovative products and ideas, and putting them on the DRTV map.
About Shark Finds
Shark Finds is an award-winning production company located in Florida. Its creative team guides the spots from script phase to screen-ready stage to final airing. The Shark Finds team has produced over $20 million worth of broadcast placements in just over two decades, with the help of their regional and national relationships.