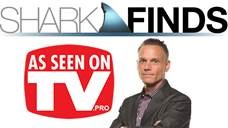 We're excited to share The Ultimate Hitting Machine with coaches, parents, and young athletes across the country, and partner with AsSeenOnTV.pro to tap into their success as pioneers to help us succeed. - Todd Hess, Chief Marketing Officer
St. Petersburg, FL (PRWEB) April 28, 2016
Shark Finds and Kevin Harrington, one of the original Sharks from hit reality series Shark Tank, are pleased to announce the launch of a new DRTV campaign with The Ultimate Hitting Machine.
The Ultimate Hitting Machine is a foot-operated, ball release mechanism. Through repetition and muscle memory, a baseball or softball player is able to develop hand-eye coordination, as well as focus and timing. The Ultimate Hitting Machine is also compact, taking up as little as ten feet of space. It's ideal for using with a group or with young athletes practicing alone.
"The Ultimate Hitting Machine was created by a father and coach who loved baseball and wanted something fun and easy to help his young son and team players improve their hitting confidence and skills" says Chief Marketing Officer Todd Hess. "The Ultimate Hitting Machine was born and has been extremely popular among coaches and young players throughout our region. We're excited to share it with coaches, parents and young athletes across the country and to partner with Kevin Harrington and AsSeenOnTV.pro, and to tap into their success as inventors and pioneers to help us do that."
As part of its DRTV campaign with AsSeenOnTV.pro, The Ultimate Hitting Machine will be appearing in 30 and 60 second spots set to air nationwide and feature the original Shark himself, Kevin Harrington. AsSeenOnTV.pro is comprised of an award-winning team of producers, writers, videographers, and editors as well as industry veterans dedicated to finding the latest, most innovative products and ideas, and putting them on the DRTV map. For more information on The Ultimate Hitting Machine, please visit
http://www.theultimatehittingmachine.com.
About Kevin Harrington
As the inventor of the infomercial, founder of As Seen on TV, and one of the original Sharks on Shark Tank, Kevin Harrington has worked with some of the world's biggest celebrities and launched some of the best-selling DRTV campaigns in history, in his latest venture with Shark Finds, Harrington is on the hunt for the best new products and ideas, bringing them to homes everywhere through personalized DRTV campaigns featuring the Shark.
About AsSeenOnTV.pro
Headquartered in Florida, AsSeenOnTV.pro is a full-service production, branding, and marketing company specializing in highly visible campaigns in direct response television.
About Shark Finds
The Shark Finds creative team guides these spots from script phase to screen-ready stage to final airing. The Shark Finds team has produced millions of dollars worth of broadcast placements in just over two decades, with the help of their regional and national relationships.