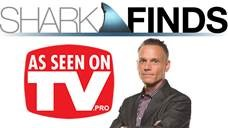 Shark Finds is an opportunity that I hope any entrepreneur can experience. It is a ride that keeps on giving. -- Gary Pizzimenti, Grip-Dry Owner and VP of Marketing
St. Petersburg, FL (PRWEB) February 17, 2016
Shark Finds and Kevin Harrington, along with the DRTV specialists from AsSeenOnTV.pro are proud to announce that Grip-Dry was recently featured on the nationally-known Big Pitch Radio program.
Grip-Dry Owner and Vice President of Marketing, Gary Pizzimenti joined hosts Marla Tabaka and Jason Garey to market the colorful, useful product for golfers.
GRIP-DRY is a newly patented product that has solved some of the basic problems golfers have faced since the dawn of golf carts. Those who play in the wet, early morning dew or right after a rain shower might understand the struggle of placing a club down for a split second only to return to a slippery and wet handle. GRIP-DRY protects the club's grip by keeping it elevated and away from wet grass, and in plain sight to eliminate lost wedges.
There is no more need to bend over and push a tee into the wet grass or pick up a second club. GRIP-DRY is small enough to fit easily into a pocket and lightweight enough to simply throw into a golf bag and head out to the course. The colorful product is also great for charitable organizations searching for ways to be seen, and Grip-Dry is a terrific tool for creating golf memorabilia with the organizational message. More information about the innovative product can be found at gripdry.com.
About Kevin Harrington
Founder of As Seen on TV, and one of the original Sharks on Shark Tank, Kevin Harrington has worked with some of the world's biggest celebrities and launched some of the best-selling DRTV campaigns in history. Since producing his first 30-minute infomercial in 1984, Harrington has been involved in over 500 product launches that have resulted in over $4 billion in sales. Now, in his latest venture with AsSeenOnTV.pro, Harrington is on the hunt for the best new products and ideas, bringing them to homes everywhere through personalized DRTV campaigns featuring the Shark.
About AsSeenOnTV.pro
As part of the media campaign with AsSeenOnTV.pro, participant products will appear in 30 and 60 second spots set to air nationwide and feature the original Shark himself, Kevin Harrington. AsSeenOnTV.pro is comprised of an award-winning team of producers, writers, videographers, and editors as well as industry veterans dedicated to finding the latest, most innovative products and ideas, and putting them on the DRTV map.
About Shark Finds
Shark Finds is an award-winning production company located in Florida. Its creative team guides the spots from script phase to screen-ready stage to final airing. The Shark Finds team has produced over $20 million worth of broadcast placements in just over two decades, with the help of their regional and national relationships.