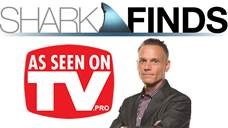 Smelly Washer is all natural, totally safe and organic, and healthy for the entire family.
St. Petersburg, FL (PRWEB) April 22, 2016
Shark Finds and Kevin Harrington, one of the original Sharks from hit reality series Shark Tank, and the Product Managers of AsSeenOnTV.pro are pleased to announce the launch of a new DRTV campaign with Smelly Washer.
Unfortunately, as washing machines started using less water to conserve energy, they've also become more prone to odor, creating the perfect breeding ground for mold, bacteria, and even E. coli. This odor transfers to laundry and can affect the health of children, the elderly, and those with allergies or asthma. Smelly Washer is proven to safely and easily remove the cause of odor rather than mask it, and stop odor from returning. Smelly Washer is used by simply adding it to a wash cycle with or without detergent, with or without laundry.
"Invariably, the worst area of buildup is just above the normal waterline where suds and soiled water splash up and can't be reached by cleaning cycles," says Paul Flynn, creator of Smelly Washer. "The best way to clean any washing machine is to use a cleaner like Smelly Washer with laundry because the added bulk raises the water level to clean the entire tub."
Odor-free and septic-safe, Smelly Washer is all natural, totally safe and organic, and healthy for the entire family. It's perfect for preventative maintenance and even removing the black yeast and fungus that grows in dishwashers. Smelly Towel cleaner, Smelly Washer's newest product, was specifically created to safely and effectively remove odor from laundry, boost the effectiveness of detergent, and enhance colors. One bottle provides enough cleaner to keep any washing machine, dishwasher, or laundry fresh, clean, and odor-free for up to one full year.
As part of its DRTV campaign with AsSeenOnTV.pro, Smelly Washer will be appearing in 30 and 60 second spots set to air nationwide and feature the original Shark himself, Kevin Harrington. AsSeenOnTV.pro is comprised of an award-winning team of producers, writers, videographers, and editors as well as industry veterans dedicated to finding the latest, most innovative products and ideas, and putting them on the DRTV map. For more information on Smelly Washer, please visit http://www.smellywasher.com.
About Kevin Harrington
As the inventor of the infomercial, founder of As Seen on TV, and one of the original Sharks on Shark Tank, Kevin Harrington has worked with some of the world's biggest celebrities and launched some of the best-selling DRTV campaigns in history. Since producing his first 30-minute infomercial in 1984, Harrington has been involved in over 500 product launches that have resulted in over $4 billion in sales. Now, in his latest venture with AsSeenOnTV.pro, Harrington is on the hunt for the best new products and ideas, bringing them to homes everywhere through personalized DRTV campaigns featuring the Shark.
About AsSeenOnTV.pro
Headquartered in Florida, AsSeenOnTV.pro is a full-service production, branding, and marketing company specializing in highly visible campaigns in direct response television.
About Shark Finds
The Shark Finds creative team guides these spots from script phase to screen-ready stage to final airing. The Shark Finds team has produced millions of dollars worth of broadcast placements in just over two decades, with the help of their regional and national relationships.