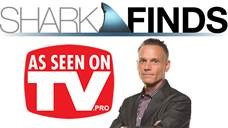 The Big Pitch Radio show airs to 37 networks with over 8 million listeners. This is a great way to catch someone's ear who may be interested in a future collaboration with my company."– Cathy Erwin, Owner/CEO Walkabout Harnesses, LLC
St. Petersburg, FL (PRWEB) March 08, 2016
Shark Finds and Kevin Harrington are proud to announce that Original Walkabout™ Back End Harness ™ was recently featured on the popular Big Pitch Radio program.
Original Walkabout™ Back End Harness ™ entrepreneur, Cathy Erwin joined hosts Kevin Harrington, Marla Tabaka and Jason Garey to market the valued pet product.
The Original Walkabout™ Back End Harness is made from soft, durable neoprene fabric, and allows pet owners to safely and comfortably lift and hold a pet's hindquarters for exercise, getting in and out of the car, bathing, and more. Recommended by veterinarians as the most effective walking aid on the market, the Original Walkabout™ Back End Harness ™ is beneficial for animals with arthritis, hip dysplasia, spinal trauma, chronic back problems, old age, and fatigue. The harness even helps prevent back injury to pet owners from lifting pets improperly. The valued pet product keeps pets mobile and pet owners happy. For more information about the Original Walkabout™ Back End Harness ™, please visit http://www.walkaboutharnesses.com.
About Kevin Harrington
Founder of As Seen on TV, and one of the original Sharks on Shark Tank, Kevin Harrington has worked with some of the world's biggest celebrities and launched some of the best-selling DRTV campaigns in history. Since producing his first 30-minute infomercial in 1984, Harrington has been involved in over 500 product launches that have resulted in over $4 billion in sales. Now, in his latest venture with AsSeenOnTV.pro, Harrington is on the hunt for the best new products and ideas, bringing them to homes everywhere through personalized DRTV campaigns featuring the Shark.
About AsSeenOnTV.pro
As part of the media campaign with AsSeenOnTV.pro, participant products will appear in 30 and 60 second spots set to air nationwide and feature the original Shark himself, Kevin Harrington. AsSeenOnTV.pro is comprised of an award-winning team of brand evaluators, writers, videographers, and editors as well as industry veterans dedicated to finding the latest, most innovative products and ideas, and putting them on the DRTV map.
About Shark Finds
Shark Finds is an award-winning production company located in Florida. Its creative team guides the spots from script phase to screen-ready stage to final airing. The Shark Finds team has produced over $20 million worth of broadcast placements in just over two decades, with the help of their regional and national relationships.