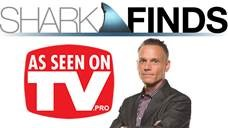 Shark Finds and Kevin Harrington with AsSeenOnTV.pro are great when you have a product like Yepzon. They increase brand awareness and do it well. It was so valuable to collaborate with Mr. Harrington and his team of expert Product Managers.
St. Petersburg, FL (PRWEB) February 19, 2016
Shark Finds and Kevin Harrington are proud to announce that Yepzon was recently featured on the internationally-known Big Pitch Radio program.
Yepzon entrepreneur, Otto Linna joined hosts Kevin Harrington, Marla Tabaka and Jason Garey to market the ingenious locator device, which is also on AsSeenOnTV.pro.
Yepzon is an inexpensive GPS tracking solution for everything and everyone valuable. It is a small, wafer-shaped device that can be easily and unobtrusively worn by a person or pet. It utilizes Bluetooth and GPS technology to send real-time tracking information to a smart phone app. Free of any personal information so there is nothing for hackers to steal, Yepzon simply informs the concerned person of the wearer's location at any given time, even while moving. With a long rechargeable battery life, Yepzon is an easy, totally secure, and reliable way to keep track of children, adults, pets, and important possessions. Stay tuned for the next generation Yepzon named, Yepzon Freedom, coming to the U.S. market soon. More information about the unique device can be found at yepzon.com.
About Kevin Harrington
As the inventor of the infomercial, founder of AsSeenOnTV.pro, and one of the original Sharks on Shark Tank, Kevin Harrington has worked with some of the world's biggest celebrities and launched some of the best-selling DRTV campaigns in history. Since producing his first 30-minute infomercial in 1984, Harrington has been involved in over 500 product launches that have resulted in over $4 billion in sales. Now, in his latest venture with AsSeenOnTV.pro, Harrington is on the hunt for the best new products and ideas, bringing them to homes everywhere through personalized DRTV campaigns featuring the Shark.
About AsSeenOnTV.pro
As part of the media campaign with AsSeenOnTV.pro, participant products will appear in 30 and 60 second spots set to air nationwide and feature the original Shark himself, Kevin Harrington. AsSeenOnTV.pro is comprised of an award-winning team of producers, writers, videographers, and editors as well as industry veterans dedicated to finding the latest, most innovative products and ideas, and putting them on the DRTV map.
About Shark Finds
Shark Finds is an award-winning production company located in Florida. Its creative team guides the spots from script phase to screen-ready stage to final airing. The Shark Finds team has produced over $20 million worth of broadcast placements in just over two decades, with the help of their regional and national relationships.