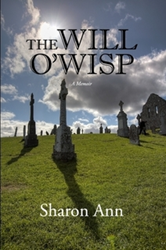 TOLEDO, Ore. (PRWEB) November 18, 2015
Author Sharon Ann recalls repressed childhood memories, revealing the extent to which damage can be done through psychological mistreatment in "The Will O'Wisp: A Memoir" (published by Lulu).
Kirkus Review writes that "The Will O'Wisp" is a "beautifully wrought memoir of a modest American dream morphing into a terrible nightmare." Spanning from the mid-1950s to the late 60s, Ann traces her family's gradual transition from true happiness to a life of secrets and misery.
Alcoholism, mental illness, and a poor Irish girlhood plague Ann's mother and fuel her penchant for achieving wealth and high status. As she transforms into a drunken divorcee in pursuit of a new, white-collar husband, she comes to brainwash her children into hating and, finally, forgetting their gentle Italian-American father.
Ann hopes that, through her story, readers will realize that emotional torture and mental cruelty can be just as harrowing as physical abuse.
"The Will O'Wisp"
By Sharon Ann
Softcover | 6 x 9 in | 306 pages | ISBN 9781105993350
E-Book | 306 pages | ISBN 9781300742302
About the Author
Sharon Ann now lives a reclusive life in rural Oregon, where she continues to write her memoirs. More information is available at http://www.facebook.com/DancingHenPress.
Lulu empowers people of all ages to explore and express their interests, passions and expertise through books, photography and art. Since introducing self-publishing in 2002, Lulu has empowered creators in more than 225 countries and territories to produce nearly two million publications. Lulu Jr. allows children to become published authors, encouraging creativity, strengthening literacy and building self-esteem. Picture.com offers professional photography of collegiate and professional sports, memorable and historic events, fine art and home décor. For more information, please visit lulu.com.