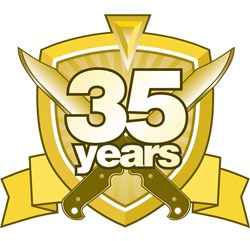 Buffalo, New York (PRWEB) December 30, 2013
Lansky Sharpeners, the world leader in innovative sharpening products, is excited to announce that 2014 will mark their 35th anniversary of supplying the most user-friendly sharpening products available worldwide.
Lansky's entry into the sharpening world started 35 years ago when Arthur Lansky Levine started tackling the challenge of making a sharpener that anyone could use to get a razor-sharp edge on their tools and knives. Pairing his knowledge as a surgical student with his experience managing his family's outdoors store, Levine set out to learn what challenges faced the knife sharpening world. In the process, he developed the famous Lansky Controlled Angle Sharpening System, which immediately made waves in the hunting industry by eradicating traditional sharpening methods.
"When I was a kid, I used to visit my uncle, who was the county coroner, and I remember being fascinated by the Microtome knife sharpener they used for scalpels. Having been in the outdoors business and remembering my father's advice to sell something that everybody can use, I started fiddling around with a sharpening system," said Levine in 1987.
As the popularity of his sharpening system grew, so did Lansky Sharpeners. Arthur continued to develop accessories for the Controlled Angle System as well as ergonomic hand sharpeners for field use. As the Lansky product line continued to develop, so did the Lansky brand, reaching more retail stores, consumers and slowly but surely becoming the company it is today.
Lansky is proud to feature the most extensive line of ergonomic sharpening equipment and accessories available today. Although Levine passed away in 2010, the family-owned company continues to honor his legacy by producing smart, innovative sharpening products for the home and field. Additional information about Lansky Sharpeners can be found on their website at http://lansky.com/.
About the company:
Lansky Sharpeners is the most recognized name in knife sharpening systems worldwide. In addition to their legendary Controlled Angle Sharpening System, they continue to develop new sharpening technologies and innovations for hunting, outdoor sports, kitchen use, as well as the workshop. Their product line includes everything from a knife sharpener to a pocket knife sharpener. Visit their online store to view their ever-expanding line of great sharpening products. For more information, visit their website at http://www.lansky.com.