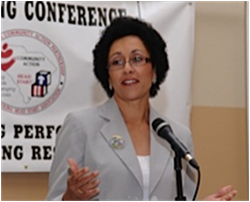 Women must understand their worth to a company.
Columbia, SC (PRWEB) April 22, 2014
The annual conference for the Business and Professional Women of South Carolina will be held Saturday, April 26th at the Federal Building in Greenwood beginning at 9 a.m. The organization will be celebrating 75 years of service to women who seek fairness and equality at work. Betty Parker of Sharper Development Solutions, Inc, will deliver the keynote address. Since its inception in 1919, BPW has sought to achieve equity for all women in the workplace through advocacy, education and information. Their ongoing goal is to create solutions that improve the workplace for today's female workforce.
Parker, a business owner and leadership consultant, trains and speaks on topics of diversity management in corporations and nonprofit organizations. She challenges women to carve out their place in the workforce while maintaining the integrity of their roles and responsibilities in the household.
"I recognize how hard it is for women to keep a watchful eye on all of the expectations that are placed upon us in society simply because of our gender," says Parker. "And though we are proud to be women and serve in those varied roles, we still want to have personal achievements that we are free to attain without hindrances based on our gender."
Parker says she plans to challenge those in attendance at this year's conference to relish the past, but to concentrate on what's being done in the present to largely impact the future of women in the workplace. With chapters mainly in the upstate and the midlands, BPW is looking to grow its membership with progressive female professionals who strive to help businesses create work environments that are inclusive and value the skills and contributions of working women.
About Sharper Development Solutions, Inc.
Sharper Development Solutions, Inc. is a training and development company that focuses primarily on leadership skills development. Headquartered in Columbia, SC, the company provides training to leaders nationally and includes not only leadership and management training but also workforce development. Sharper Development was chosen as a 2013 Count Me In Urban Rebound winner which recognizes and grows high potential female-owned small businesses. Other services provided are executive coaching and professional speaking.