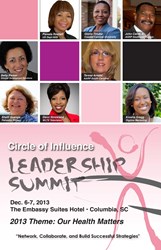 Build your circle of influence.
Columbia, SC (PRWEB) December 03, 2013
Imara Woman Magazine is holding its annual "Circle of Influence Summit" on December 6-7 for professional women in the state of South Carolina. Betty Parker, President of Sharper Development Solutions, Inc. will be conducting a workshop that challenges women to consider how they lead. This year's theme is "Our Health Matters!" and features dynamic speakers on topics like the Affordable Care Act and the benefits of yoga. Sponsored by organizations like AARP, Healthy Connections and Select Health of South Carolina, the keynote address will be given by U. S. Department of Health and Human Services Regional Director, Dr. Pamela Roshell. Imara Woman Magazine founder Wendy Brawley is looking to help women take a leading role in their own health and in their lives as heads of households and businesses.
Betty Parker's workshop on determining an individual's preferential method of leading will connect leadership and health.
"When a woman is in a leadership position, she has all kinds of pressures upon her to show her worth and strength as a leader," says Parker. "She has to show that at work and at home she can keep all the plates spinning while even washing a few. This can be stressful to a driven woman who strives to be successful. That stress can impact her health negatively."
Parker's workshop "Defining and Maximizing Your Leadership Style" will help professional women to assess their priorities in their leadership positions. She helps them to manage their responsibilities while building important connections that lead to healthy, mutually beneficial relationships. Parker expects the women in her workshop to walk away with a plan to change their negative influences on others while accentuating the positive leadership qualities they bring. For more information about the conference or to register online, visit http://www.imarawoman.com.