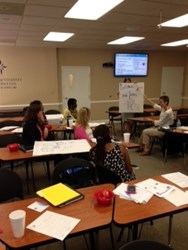 Columbia, SC (PRWEB) August 30, 2013
Every year the Sisters of Charity Foundation offers nonprofit leaders the opportunity to grow themselves as they grow their organizations. Scholarships are provided through the Foundation to a small number of executive directors who qualify to participate in the Nonprofit Leadership Development Certificate Program. Participants can earn postgraduate credits from Columbia College in a year-long course called "Critical Issues of Leadership". Betty Parker of Sharper Development Solutions, Inc. serves as instructor in the first session of the course where she educates participants in identifying leadership styles.
"Being aware of our behaviors as leaders requires personal accountability and accepting the truth. For many, these are two difficult actions in which to commit," says Parker. "In order to excel in the position of leading others, we have to first figure out how to be great leaders so that the people we work with everyday will respectfully follow us."
With trends showing that 75% of all new nonprofits fail in the first year, the foundation aims to keep qualified organizations viable through education and training. Teaching leaders the skills to sustain the organization through good governance, solid relationships, and fiscal responsibility has helped keep those that have completed the program alive and growing.
The program covers critical topics like the one Parker teaches on identifying high performing leaders through their behavioral styles. Whether the leader is dominant, enthusiastic, compassionate or analytical, Parker helps them identify through an online assessment how their style impacts the people around them. In addition to challenging executives to recognize their strengths so that they can capitalize on those more often and minimize their weaknesses, Parker says the program also includes help in leading a diverse workforce, managing change, and conflict management. As nonprofits struggle to stay funded in a down economy, Parker trains participants in building influence and trust in their positions.
"When our class participants learn that great leaders are influential, then they'll learn that their influence can net them the funding they need to continue to serve their clients and/or the community," says Parker. "This is what we teach in the program, and it's making the difference." For more information, please call (803) 622-4511 or email to betty(at)thesharpersolution(dot)com.
About Sharper Development Solutions, Inc.
Sharper Development Solutions, Inc. is a training and development company that focuses primarily on leadership skills development. Headquartered in Columbia, SC, the company provides training to leaders nationally and includes not only leadership and management training but also workforce development. Sharper Development was chosen as a 2013 Count Me In Urban Rebound winner which recognizes and grows high potential female-owned small businesses. Other services provided are executive coaching and professional speaking.