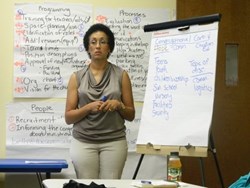 Columbia, SC (PRWEB) August 23, 2013
In an effort to run like a church but think like a business, a local Baptist church has opened its doors to strategic planning led by leadership consultant Betty Parker, President of Sharper Development Solutions, Inc. With an estimated 8,000 members, Brookland Baptist Church of Columbia, South Carolina is home to a banquet and conference center, health and wellness center, child development center, and credit union on its main campus. The church has a paid staff of 200 and a rapidly-growing second location. Many mega-churches unwittingly end up doing business with the community even as it ministers. The leadership is looking for ways to operate efficiently today while keeping an eye on a vibrant future.
Parker worked with ministry leaders to improve communications, clarify roles and responsibilities, evaluate performance of each ministry--including leaders and volunteers--and plans to improve safety. Much like any for-profit business, many churches are finding themselves dealing with challenges involving people, products and processes. Parker feels that regardless of an organization's structure or industry, the same rules apply when it comes to people management.
"At the end of the day, people are the driving force in an organization. If I can get them functioning at a level of personal excellence, the entire organization then becomes a center of excellence," says Parker. "Whether it's in a church or a manufacturing plant, high performing leadership is essential."
For nonprofit leaders, Parker trains specifically on servant leadership--the concept of putting the desire to serve first. She carries that same concept into the business world promoting stewardship, accountability, and mission. Parker believes that the same skills that are required to lead a nonprofit organization are the same skills needed to lead a corporation. Therefore, the church's need to think strategically is important in managing large budgets, staff, and services. Parker recommends that all organizations, whether it's the pastor of a church or the CEO of a company, learn to think and plan with smart goals in mind.
For more information, please call (803) 622-4511 or email to betty(at)thesharpersolution(dot)com.
About Sharper Development Solutions, Inc.
Sharper Development Solutions, Inc. is a training and development company that focuses primarily on leadership skills development. Headquartered in Columbia, SC, the company provides training to leaders nationally and includes not only leadership and management training but also workforce development. Sharper Development was chosen as a 2013 Count Me In Urban Rebound winner which recognizes and grows high potential female-owned small businesses. Other services provided are executive coaching and professional speaking.