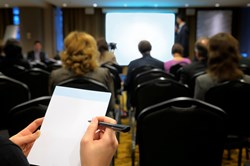 Columbia, SC (PRWEB) November 01, 2013
Trainers from all disciplines and industries are expected to converge on Columbia, SC on November 20, 2013 when facilitator and leadership consultant, Betty Parker, conducts a train-the-trainer class designed to make classroom training more engaging. Parker has been the President of Sharper Development Solutions, Inc. since 2006. She estimates she's trained thousands of people across the country. Her conversational delivery and informal training style has made her popular with companies who want to teach their leaders the skills they need to lead effectively, yet keep them interested enough to attend six to twelve months of training.
"The way to keep people coming to training is to make it engaging so that they don't see it as just another boring training class they're being forced to attend," says Parker. "I'm going to show trainers and anyone else who wants to know how to engage an audience a number of techniques I use to make training interactive, fun, and enlightening."
The day-long session will be held at the Brookland Banquet & Conference Center in West Columbia, SC. Participants will have the opportunity to network and learn techniques for designing and delivering training that has impact. The session content is designed to meet the needs of trainers at every level, according to Parker. New trainers and experienced trainers will benefit from brainstorming with colleagues, learning how-to's in creating objectives and goals, designing effective evaluations, proper use of visual aids like Power Point and Prezi, when to use e-learning methods, creating simulations and exercises that engage, and understanding adult learners among other skills.
Parker recently became a Certified Professional in Learning and Performance through the American Society for Training and Development's Certification Institute. She also received the President's Award from the local ASTD Chapter in Columbia for her dedication to the industry and her colleagues. For more information on attending this training session, call (803) 622-4511 or email betty(at)thesharpersolution(dot)com.