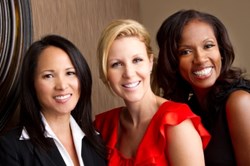 Is your leadership style trending?
Columbia, SC (PRWEB) February 03, 2014
Women are growing in numbers when it comes to their place in the workforce and in leadership positions. According to census data, by 2016, women will add to a changing work environment of which 70% will be comprised of African Americans, Latinos, Asians and other ethnic minorities. These numbers make sense considering that census data also shows that women and men now share a basic equal split in this country's population.
Unfortunately, a greater presence has not guaranteed equality. Women still don't receive the same pay for the same work as men in many instances regardless of the illegality of the conduct, and there is a vast chasm between the number of women in executive leadership positions in Fortune 500 companies and the number of men. The same can be said in the majority of smaller companies across the U.S. Check out any number of websites where companies proudly display their leadership team, and more often than not, you'll see a predominantly white male executive team or board.
We're seeing small changes, however, in women making it up the ranks in organizations all over the country. Though the gap still exists, some organizations are getting the rest of the story which has been documented quantitatively and qualitatively. When women lead, positive things happen. Higher productivity has been proven along with greater revenues. Some companies get it, and they are making every effort to include the best person for the job rather than the best man for the job. Women, therefore, are seeking ways to improve their strength and influence as leaders.
Sharper Development Solutions, Inc. specializes in building strong leaders. The company's owner, Betty Parker, is looking to enhance the skills of female professionals and entrepreneurs who want to be greater at leading companies, collaborations, and customers. She will be conducting a three-part Women's Forum on Leadership at the Capital City Club in Columbia, SC beginning February 11, 2014 at 11:30 a.m. The seminar is only two hours but will challenge women to be as effective if not more effective than their male counterparts.
"Our first topic is on helping women to understand how they lead," says Parker. "Most people, and especially women, are not fully aware of their style of leadership. They don't understand that there are a variety of habits, beliefs, and behaviors they bring to any group that will either cause that group to follow them or to resist them. I challenge them to ask themselves if their personal brand is trending?"
The topic is part of Sharper Development's overarching program, "Is Your Leadership Style in Fashion?" All of the topics are related to fashion to keep the learning efforts engaging and fun. If you're in the Columbia area and would like to attend, register at (803) 256-2000 or (803) 622-4511. Lunch is included and networking is a bonus to those looking to expand their circle of influence.