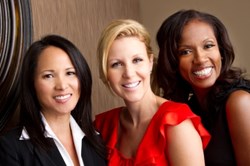 Columbia, SC (PRWEB) February 14, 2014
A harsh winter in the south has managed to delay business interactions over the past few weeks for practically everyone. As much as we love "snow days" to stay home where it's warm and eat our favorite foods while lazing around the house all day, most of us are over it in a couple of days. For those driven people who are in sales and management, these days are especially difficult. For every moment they're not in front of a client or their team, they're losing money and productivity.
Betty Parker, leadership consultant with Sharper Development Solutions, Inc, a leading training and development company in Columbia, SC, is conducting a forum for female professionals whose goals are to increase sales and productivity in business. She is holding the first of three workshops at the Capital City Club in downtown Columbia beginning on February 18th at 11:30 a.m. "Is Your (Leadership) Style Trending?" was delayed this past Tuesday due to inclement weather, but Parker says she is looking forward to finally presenting information that will grow women leaders. Each workshop will inform attendees on how to identify their best leadership qualities and how to use those qualities to make bigger sales and build stronger teams.
"Too often we're not attuned to the strengths that help us win," says Parker. "Because they are a large part of how we function and contribute at work, we take them for granted. We don't often recognize how when we overuse those skills that we sabotage our own success. That's what we'll discuss in the first session."
Parker says that each attendee will take an assessment that will determine their leadership style. Based on how they identify, they will then learn how to maximize their strengths and minimize those behaviors that detract from their progress. The two subsequent workshops that will be held in March and April will address conflict management and strategic thinking and planning. Women interested in attending can register at (803) 256-2000 or by email to betty(at)thesharpersolution(dot)com.
###
About Sharper Development Solutions, Inc.
Sharper Development Solutions, Inc. is a training and development company that focuses primarily on leadership skills development. Headquartered in Columbia, SC, the company provides training to leaders nationally and includes not only leadership and management training but also workforce development. Sharper Development was chosen as a 2013 Count Me In Urban Rebound winner which recognizes and grows high potential female-owned small businesses. Other services provided are executive coaching and professional speaking.