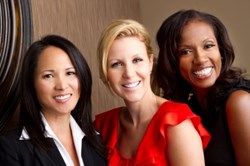 An educational series for women who want this year to be their best.
Columbia, SC (PRWEB) January 06, 2014
A three-part educational series designed for women who want to excel in their current knowledge and execution of leadership will debut January 14, 2014. Leadership consultant Betty Parker will present sessions on understanding leadership styles, conflict management, and strategic planning for women in business. Female professionals in charge of teams, departments or businesses will benefit from learning about their specific styles and how they impact the people around them. Each two-hour session will be held at the Capital City Club in downtown Columbia. The series will occur January through March and is open to all professional women who want to develop or improve their skills as leaders.
The January session challenges participants to turn up the positive aspects of their styles and dial back the behaviors that compromise their ability to lead successfully. Every participant will take a DiSC® styles assessment and learn the trends that are prevalent in their daily interactions with others. Participants will answer questions like, "How well am I using my drive to accomplish my goals rather than steamrolling over the goals of others?" or "How can I capitalize on my high standards in business to draw people to me versus turning people off with my tedious analysis of every action?" For those who are willing to take an honest look at themselves and how they behave on and off the job, this session will help promote the necessary changes for their development as leaders.
"As women, we are held oftentimes to a different standard as we lead in our organizations and our personal lives," says Parker. "The expectations by others are sometimes low, exaggerated or unrealistic. As a result, we have to be cognizant of how we lead in order to be taken seriously and respected. These sessions will challenge women to take a hard and honest look at how they lead. It will also give them valuable tools they can use to excel in the areas of their lives that are important to them."
The "Women's Forum on Leadership" is a new initiative launched by The Capital City Club in partnership with Sharper Development Solutions, Inc. in an effort to offer greater value to their membership and to the community. All women who aspire to be great leaders or who are interested in reaching their professional goals and want to be in the presence of like-minded women are invited to attend.