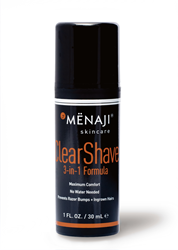 "Clear" means "control" so all of a man's power areas (face, head and chest), can benefit from Mënaji Skincare Clear Shave.
New York, New York (PRWEB) October 23, 2014
New York (November 2014)– This holiday season you can scratch off all the men on your list with one fabulous new product: Mënaji Skincare Clear Shave 3-in-1 Formula.
For years, Mënaji, a leader in men's grooming and lifestyle products, has introduced innovative products for men to constantly enhance the quality of their lives. Now Mënaji asks: "Why dread your morning grooming routine?" Get where you need to go faster with the revolutionary new Clear Shave 3-in-1 Formula.
This product addition will anchor Mënaji Skincare firmly as a premier product in men's grooming and shaving with a revolutionary unique "dry shave" experience. The rich, new formula, loaded with soothing botanicals, is making its debut as the one shaving product that lets men address all the prepping and toner benefits, and see all the moves, borders and curves on a man's face – in one clean, easy step.
Bringing innovation through technology to complement the formula, Mënaji also uses Airless Pump Delivery to ensure a measured amount of product is delivered with every use, keeping air out of its dispensing system, which prevents contamination and extends the life of the product in each 30ml size.
Features & Benefits:

CLEAR GEL enables sophisticated shaving – precise facial hair borders. (Men can see where they're shaving)
NO WATER NEEDED
MAXIMUM COMFORT
ANTI-STUBBLE, ANTI-RAZOR BURN (Delivers pre-shave conditioning and post-shave toning– prevents ingrown hairs)
SOOTHING BOTANICAL- BASED FORMULA FOR HEALTHY SKIN
AIRLESS PUMP DELIVERY SYSTEM DELIVERS PERFECT AMOUNT EVERY TIME AND PREVENTS GERMS (Packaged for safety, purity and portion control)
CONVENIENT, 30ML SIZE (meets air travel size requirements).
"Clear" means "control" so all of a man's power areas (face, head and chest), can benefit from Mënaji Skincare Clear Shave.
Interested consumers are invited to call Mënaji at 800-551-5067 to pre-order the Mënaji Skincare Clear Shave today. The product will be available in a broad range of traditional and online retail outlets in North America starting November 2014 for an incredible retail price of $10. While there, consumers can peruse the rest of the line that includes Power Hydrator Aftershave – a wrinkle-minimizing miracle, oozing with anti-aging botanicals to keep skin young and fresh. With prices this good, you will be inspired to add more men to your holiday gift-giving list!
About Mënaji
Mënaji Skincare, a category leader in the "Booming Men's Grooming" segment of the global beauty industry, was founded in 2000 by celebrity make-up artist Michele Probst. Sold in the USA and overseas in more than 20 countries, the Mënaji product line addresses men's real skincare needs with healthy, anti-aging skincare and undetectable skin-tone true cosmetics. All purchases of Mënaji Skincare on http://www.menaji.com include select sample packets.
Contact Information:
Mënaji Worldwide, LLC
phone: 800-551-5067
Email: info@menaji.com