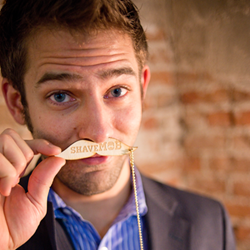 Denver, Colorado (PRWEB) November 20, 2013
ShaveMOB, a Denver-based start-up promising the lowest prices on shaving razors for men and women, announced a campaign designed to promote awareness of Movember by donating a portion of "Moustache Monocle" and razor sales to the cause.
Zach Randall, ShaveMOB CEO, said "ShaveMOB's Movember Moustache Monocle program arose because we knew a number of people who either could not or would not grow facial hair but still wanted to show their support of this worthy cause. Thanks to ShaveMOB, you can carry the rugged look of a moustache without the hassle of a scratchy upper lip. These handcrafted wooden beauties will be offered for $5, and then we're passing 50% of the proceeds to the Movember Foundation. ShaveMOB is also donating a portion of every razor sale in November to Rocky Mountain Cancer Assistance (RMCA), a non-profit organization helping cancer survivors and patients battling this disease."
So far the program is off to a great start, with the cheeky wooden moustaches being very well received. Customers can add the moustaches to their orders at ShaveMOB.com to show their support.
"The Movember Moustache Monocle idea fit ShaveMOB really well. We stand for the benefits that our customers have come to realize: saving money, time, and reducing your environmental impact. But customer or not, we're also about making a stand for the benefit of humanity. Joining the fight against prostate cancer is one of them. We are hopeful we can help make an impact," Randall noted.
After a lengthy selection process, ShaveMOB chose to partner with RMCA as the company felt it could drive the most measurable impact at the local level. Grace Castellanos, Executive Director of the Colorado-based non-profit, said "RMCA is very excited about the prospect of partnering with ShaveMOB. Since 2000, we've provided over $3 million in financial assistance to more than 5,000 cancer survivors, and programs like this will help continue our mission. ShaveMOB's Pink Razors for Pink Ribbons breast cancer campaign in October was a success and I am excited to see what the rest of November brings."
The company is also offering bloggers the opportunity to review ShaveMOB razors and also feature the "Movember Moustache Monocle" donation effort.
About ShaveMOB™
ShaveMOB™ is transforming the way Americans think about their shaving supply needs. The company's mission is to connect with savvy, price-conscientious consumers tired of overpaying for shaving razors, promising "A Quality Shave at an Awesomely Low Price." The founders of ShaveMOB were tired of overpaying for their razors and realized that men and women were overspending on something they could purchase at a fraction of the cost. Since then, they set out to source high-quality razors and created the ShaveMOB™ website, where they offer only premium quality razors at a fraction of the retail price and with the added convenience of free shipping. Most users save over $100 per year against overpriced retail brands. To learn about ShaveMOB™ or purchase a 2-, 6- or 12-month supply of razors, please visit ShaveMOB.com or use the hashtag #ShaveSmarter to connect with ShaveMOB on Facebook and Twitter.
About Rocky Mountain Cancer Assistance
Since our creation in 2000, by a group of Rocky Mountain Cancer Centers physicians, Rocky Mountain Cancer Assistance has provided over $3 million in financial assistance to more than 5,000 cancer survivors receiving treatment in Colorado. Assistance from RMCA is for a patient's basic needs, and can include rent or mortgage, utilities, car payments and car insurance, health insurance and COBRA, and help with other day-to-day expenses. Our focus is on providing assistance to our local community by serving low-income Colorado cancer patients across the state.