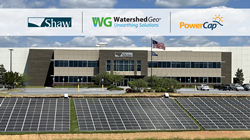 "This demonstration installation at Shaw's facility provides us with the ideal way to showcase the possibilities of our PowerCap technology to more customers, which stands to accelerate adoption and the positive impact we can all have on people and the planet." - Mike Ayers, CEO at Watershed Geo
ADAIRSVILLE, Ga. (PRWEB) May 22, 2023
Shaw Industries Group, Inc. (Shaw) has installed an innovative solar technology for steep slope applications at its carpet tile manufacturing facility in Adairsville, Ga., known as Plant T1. The half-acre installation will generate approximately 300 kW of power once it goes live later this year. That's enough to power more than 45 homes' electricity, according to the Environmental Protection Agency.
The PowerCapTM solar power system was provided by Watershed Geo -- an innovative solutions provider for the protection and resiliency of civil, environmental and energy infrastructures in which Shaw has controlling interest.
In addition to providing solar energy to the facility, this installation offers a more accessible location for Watershed Geo customers to see how the technology works and is installed. PowerCap is typically installed on top of synthetic turf at inactive landfill sites using Watershed Geo's patented ClosureTurf® system and at other erosion control areas. These locations are often inaccessible and difficult for other customers to see the system in action.
PowerCap is the latest in landfill and impoundment solar technology with direct surface attachment and "plug and play" integrated wiring technology to be installed on steep slopes and large flat surfaces of the environmental closures. The system does not require penetrations, making it ideal for closed landfills, impoundments and stand-alone slope applications like the Shaw facility. Because of its unique design, this technology reduces the bulkiness of racking material, simplifies installation and can increase the power per unit area by as much as two to three times that of traditional solar arrays. It also maximizes the site footprint with a unique slope technology allowing more of the site to become an effective means of power generation.
Shaw purchased controlling interest in Watershed Geo in fall 2021 – building upon its long-standing partnership. Shaw has provided Watershed Geo's engineered synthetic turf for the company's innovative and patented environmental solutions for utility, waste management, erosion control and mining industries for more than a decade. Shaw originally invested in Watershed Geo in 2011 to infuse capital and diversify the company's use of its artificial turf manufacturing assets, and has long been the exclusive provider of turf to Watershed Geo.
Mike Ayers, CEO at Watershed Geo, notes, "Watershed Geo's mission is to improve civil and environmental infrastructure resiliency, while providing significant, tangible environmental benefits for both our customers and the communities we serve. The demonstration installation at Shaw's manufacturing facility provides us with the ideal way to showcase the possibilities of our PowerCap technology to more customers, more readily, which stands to accelerate adoption and the positive impact we can all have on people and the planet."
Watershed Geo's business is poised for exponential growth as it provides an exciting new opportunity for large utilities, government agencies and global industries to take a more sustainable approach to their sites.
Tim Baucom, president and CEO at Shaw, adds, "This installation at one of our carpet tile manufacturing facility showcases the opportunity beyond landfill and impoundment sites and is just one of the many initiatives we're undertaking to be a positive force in the global effort to mitigate climate change and to provide our customers with innovative, sustainable solutions to some of the world's greatest challenges."
About Watershed Geo
Watershed Geo develops innovative solutions for the protection and resiliency of civil, environmental and energy infrastructures. These widely recognized innovations challenge traditional solutions with systems that are sustainable, low-cost and engineered for extreme performance. Watershed Geo services the environmental and civil sectors, with customers such as TVA, Environmental Protection Agency, Southern Company, Dow, Rio Tinto, ExxonMobil, Chevron, U.S. Department of Energy, Georgia Pacific, U.S. Department of Defense, public and private waste management facilities and many others. Visit watershedgeo.com for more information.
About Shaw
Shaw Industries Group, Inc. supplies carpet, resilient, hardwood, laminate, tile and stone, synthetic turf, and other specialty products to residential and commercial markets worldwide. The company meets its diverse customer needs through an expansive portfolio of brands, including: Anderson Tuftex, COREtec, Patcraft, Philadelphia Commercial, Shaw Contract, Shaw Floors, Shaw Sports Turf, Shawgrass, Southwest Greens, Watershed Geo and more.
Shaw is a wholly owned subsidiary of Berkshire Hathaway, Inc. with more than $7 billion in annual revenue and more than 20,000 associates worldwide. Headquartered in Dalton, Ga., Shaw has salespeople and/or offices located throughout the U.S. as well as Australia, Belgium, Brazil, Canada, Chile, China, France, India, Mexico, Singapore, United Arab Emirates, the United Kingdom and Vietnam. Visit http://www.shawinc.com for more information.
# # #