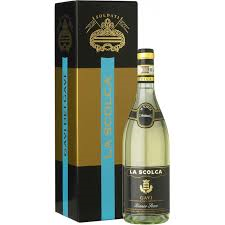 "We are extremely proud to add one of the world's iconic wineries to our portfolio of fine wines," said Bruce Hunter, Managing Director, Shaw Ross International Importers, LLC
MIRAMAR, Fla. (PRWEB) December 12, 2018
At the stroke of midnight, January 1, 2019, La Scolca, based in Gavi, Italy, will celebrate its 100th anniversary. At the same time, the historic brand's new, exclusive import agreement with Shaw Ross International Importers, LLC will take effect.
"We are extremely proud to add one of the world's iconic wineries to our portfolio of fine wines," said Bruce Hunter, Managing Director, Shaw Ross International Importers, LLC
The La Scolca Winery is headed up by Chiara Soldati who, with her father Giorgio Soldati, represents the 6th generation of this esteemed winemaking family.
"La Scolca is a visionary company that looks at the future with an innovative spirit while continuing the focus on continuity and quality of the highest level," said Chiara Soldati.
La Scolca Gavi dei Gavi® Black Label is considered one of the finest expressions of the Cortese Grape produced in Piedmont and is represented in many of the world's finest restaurants.
Last year Shaw-Ross took over exclusive import rights for Tuscany-based, Frescobaldi wines and Danzante Varietals as well as Bordeaux-based Baron Philippe de Rothschild SA for its French branded wines, Mouton Cadet.
About Shaw-Ross International Importers:
Founded in 1968 as a wine and spirit importer representing a handful of brands, Shaw-Ross has grown into one of the nation's leading importers representing iconic suppliers from around the world. Shaw-Ross continues to evolve its portfolio to keep ahead of the ever-changing wine and spirit industry. For more information go to http://www.shawross.com.
About La Scolca :
The 40-acre La Scolca estate in Gavi, Italy, was purchased between 1917 and 1919 by the great-grandfather of Giorgio Soldati, who today, leads the company with his daughter Chiara. The name of the property, La Scolca, translates from the word "sfurca" or "look off into the distance, which embraces the forward-thinking philosophy of an old company with new ideas. With close to six generations, the Soldati family has expanded its range of premium wines, all produced from the Cortese grape, prized for its history in Italian viticulture. For additional information go to https://www.lascolca.net/