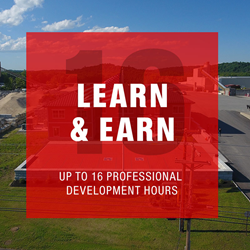 "Getting relevant technical education is not easy, and free education normally means an hour long infomercial. This is not what you get from the Shea Concrete Products Technical Engineering Seminars." - Sam Lines (Engineering Manager - Concrete Sealants, Inc.)
AMESBURY, Mass. (PRWEB) March 19, 2019
Drawing a crowd of over forty-five construction, engineering, and precast professionals, Shea Concrete's February seminar offered a full-day of technical learning from a wide-range of industry-leading speakers.
An exciting new addition was associated with this seminar as "5.0 System Inspector (SI) Training Contact Hours (TCH's)" were approved for all attendees by the Massachusetts Title 5 Onsite Advisory Committee, on behalf of MassDEP. Along with the 5.0-TCH's this seminar was approved for 6.0-Credit Hours by the NHDES Subsurface Systems Bureau for On-Site/Septic Designers/Installers and 5-Professional Development Hours (PDH's) helpful for Professional Engineers to keep up with continuing education requirements. With this seminar being offered at no cost to attendees it offered a BIG Return-On-Investment!
"Getting relevant technical education is not easy, and free education normally means an hour long infomercial. This is not what you get from the Shea Concrete Products Technical Engineering Seminars. The modules provide current information on topics that are important to the water and wastewater community. The speakers are industry experts there to teach, not sell. And, the education includes a plant tour of one of the most advanced precast concrete plants in operation today." – Sam Lines (Engineering Manager – Concrete Sealants, Inc.)
Shea Concrete also offered guests a tour of their precast concrete manufacturing facility and headquarters. The new headquarters, which opened in January 2018, was designed with LEED-certification in-mind by utilizing a wide range of sustainable materials and practices, including a roof-mounted solar panel array, sustainable precast concrete construction, brownfield and wastewater considerations, and steps to minimize construction waste throughout the construction process.
"I am a Health Agent and wanted to see the precast concrete operation to better understand the elements of septic system components and application. I expected several hours of sales pitch and "buy our product" presentations. Couldn't be further from the truth. I received professional presentations and a plant tour that gave me a lot of insight into what goes into quality precast concrete products as well as Q&A sessions about associated septic products with industry professionals. To top it all off a great and delicious lunch was provided. Good job! Thanks for a great day and I look forward to future seminars." - Bryan Besso (Hopkinton, MA Health Agent)
Shea Concrete Products would like to thank all speakers and attendees for making the first 2019 Technical Engineering Seminar a success, and looks forward to hosting more successful seminars for years to come!