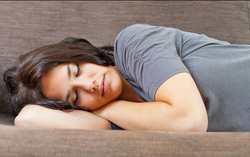 Naps can reduce the risk of a heart attack, improve stamina, and allow the body to lose weight more quickly.
Fort Lee, NJ (PRWEB) September 21, 2013
According to a recent poll by the National Sleep Foundation (NSF), 43 percent of Americans find themselves excessively sleepy on a daily basis. A daily nap, according to Joyce Walsleben, PhD, director of the Sleep Disorders Center at the New York University School of Medicine, a 20 minute nap can bring you back refreshed and energetic, and speed up your productivity. According to the latest blog from Marble Media LLC's ShedThoseLbs.com titled, "Incorporating Naps into Daily Routine Can Help Speed up Weight Loss Efforts," guest blogger Liz Ernst says that napping can also help speed up weight loss.
"Naps have physical benefits that become obvious once you begin to make them a part of your routine," Ernst says. "They can reduce the risk of a heart attack, improve stamina, and allow the body to lose weight more quickly.
"Weight Watchers has taken to advising dieters that napping may help get them through the late-afternoon temptation to munch."
Many people believe they can't nap midday because they're at work, according to Ernst. Some companies support the power nap by providing a sleeping room complete with cots and pillows—these companies are responding to research on the benefits of napping when it comes to productivity. Most people do not have a nap room at their workplace, however, but can still benefit from putting their heads down on their desks for 20 minutes at lunchtime.
"Since everyone is different, though, what works for some may not work for others," Ernst says. "People who have trouble napping may want to try darkening their sleep area if possible during daylight hours, or leaving the television or radio off to silence the mind.
"Different nap times may work better than others, and setting an alarm may be a good idea to avoid slipping into a deeper sleep."
Ernst says that while napping can help nearly everyone feel fresher, lower stress levels, stick more closely with their exercise regimen and improve their general health, the added bonus is the accelerated weight loss napping can bring about.
For more information, visit the ShedThoseLBS.com website or email info(at)shedthoselbs(dot)com.
About Marble Media LLC:
Marble Media LLC is a creator of high-quality, content-rich blog sites that provide expansive coverage of relevant information to readers who make up a wide range of demographics. The Marble Media LLC team of expert writers covers a wide range of specialties including travel, food, health, fitness, social media, marriage, parenting, technology, weight loss, fashion and much more.
For more information on Marble Media LLC's offerings and advertising opportunities, visit the
MarbleMediaLLC.com website, or email sales(at)marblemedia(dot)com.
###