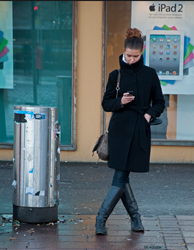 Often times, we find ourselves deeply involved in a task when the urge to urinate strikes, but we push ourselves to just hold it for just a few more minutes. Then a few more...
FORT LEE, New Jersey (PRWEB) September 09, 2013
Ignoring the urge to empty the bladder is something everyone does from time to time, but it's a habit that should be broken—the sooner the better. In the latest blog from Marble Media LLC's "ShedThoseLbs.com blog site titled, "Bladder Full? Listen to Your Body's Urges to Urinate," guest blogger Liz Ernst looks at the consequences of retaining urine in the bladder after the body has signaled its need to go.
"Do you ever find yourself postponing your body's urge to empty the bladder?" Ernst says. "If so, stop it!
"Often times, we find ourselves deeply involved in a task when the urge to urinate strikes, but we push ourselves to just hold it for just a few more minutes. Then a few more."
Ernst says there are serious health risks to holding the urine in the bladder too often or for too long, which is why the body's signals to visit the bathroom are so powerful. When the bladder is full, it sends a signal to the brain that lets it know it's full. If this signal is ignored for too long, or often enough, the chemical signals between the bladder and the brain begin to disconnect, resulting in an inability for your brain to realize when you have to urinate.
"Urination is the body's way of ridding itself of metabolic wastes, so the urge to empty the bladder is your body's way of preventing urine from sitting around in this delicate organ for too long,"
Ernst says. "Ignored signals to urinate may lead to infections in the bladder, kidneys, and urinary tract, and the urge itself is also distracting," Ernst says. "Such a powerful distraction can interfere with productivity and efficiency in whatever it is that is keeping you too busy to go in the first place.
"Whether you are working out or typing, the urge to relieve yourself will overcome your focus on anything else."
The urge to urinate is not the only urge that people often ignore, according to Ernst. People routinely push themselves to stay awake when they're tired, continue to eat when they're full (and not eat when they're hungry,) and continue sitting even as their legs have started to fall asleep and cramp.
"Ignoring these types of signals upsets the body's natural ability to operate at its best, which can lead to serious physical stress," Ernst says. "This can cause all sorts of physical stress, and at the very least, sabotage the body's ability to stay healthy and in good shape.
"Worst case scenario, ignoring out body's signals can lead to crippling ailments, diseases and disorders that can affect the quality of life; keeping your body healthy begins with paying attention to its messages—this is an important part of a well rounded way of living healthy.
For more information, visit the ShedThoseLBS.com website or email info(at)shedthoselbs(dot)com.
About Marble Media LLC:
Marble Media LLC is a creator of high-quality, content-rich blog sites that provide expansive coverage of relevant information to readers who make up a wide range of demographics. The Marble Media LLC team of expert writers covers a wide range of specialties including travel, food, health, fitness, social media, marriage, parenting, technology, weight loss, fashion and much more.
For more information on Marble Media LLC's offerings and advertising opportunities, visit the MarbleMediaLLC.com website, or Email sales(at)marblemedia(dot)com.
###