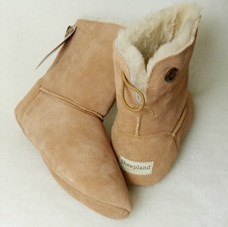 We are looking at a potentially paralysing winter, the worst for decades.
Barton St David, Somerset (PRWEB UK) 24 October 2013
As weather agency's across the country forecast one of the coldest winters on record this year, (Daily Express 12th October) one company are hoping a bitter cold snap will boost sales. Sheepskin has always been renowned for warmth and comfort, and has grown in popularity with the introduction of fashionable Sheepskin Boots. Sheepland Ltd is a typical seasonal sheepskin business, selling out over Christmas, while we try to find the elusive gift for family members. As the temperatures plummet their website http://www.sheepskin.co.uk sees a huge increase in traffic and orders. This year they have added key ranges to entice winter shoppers, who may be feeling the chill at home. This season, to fight the cold, Sheepland have brought together traditional cosy styles that they hope will keep the cold at bay.
Sheepland Ltd have introduced a pink sheepskin mule, reasonably priced at £39.99 and a sheepskin loafer priced at £29.99. These will be in addition to their bestselling "Slipper Boot", which sold out last year, and their handmade "Traditional range". All are firm favourites with their customers already and they predict they may sell out this year as well.
David Gibson, Sheepland Ltd's Manager said: "This year we have a new website, new ranges and new systems to help deliver orders even more quickly. We can't wait to share the good news with our customers". Sheepland Ltd has had a slow Summer and hope that this Winter that they can claim back sales to keep them moving forward.
Hopes are high at Sheepland Ltd for another freezing winter, we shall just have to wait and see if the weather forecast is correct.