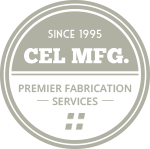 CEL has been incredibly helpful to our auto parts startup through their flexible manufacturing methodology
Seattle, WA (PRWEB) August 14, 2013
Cutting Edge Laser Manufacturing of Woodinville, Washington, is a local sheet metal fabrication company that has served local and national manufacturing needs since 1995. CEL recently published a blog post discussing their ongoing efforts to support local innovators. While innovators have great ideas, they often lack the production skills needed to create a product from scratch. This is where companies like CEL come in: local manufacturers have the tools and the experience to turn innovator's ideas into reality. Currently, CEL provides manufacturing services like design and engineering, CNC machining, rapid prototyping, forming, and welding.
The article provides an example of a startup company that designs custom off-road parts, run by Mark S. and his partners. The company, which is currently prototyping and testing designs, chose Cutting Edge Laser to manufacture its parts because of the lower costs and scalability that their laser-cutting services offered. Mark told Cutting Edge Laser, "CEL has been incredibly helpful to our auto parts startup through their flexible manufacturing methodology, value added design and engineer services, their ability to do short run production, and the capability to scale to higher volume product manufacturing."
One other benefit of producing locally is the increased efficiency. Efficiency is key for startup companies that need to keep production costs low. One way CEL increases efficiency is by allowing innovators to have all their manufacturing needs met in one place. This lowers costs and the time to bring products to market. To learn more about Cutting Edge Laser's services, visit http://celmfg.com/cel-services.