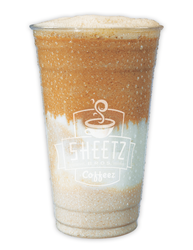 Altoona, PA (PRWEB) August 06, 2015
Sheetz, one of America's fastest growing family-owned convenience retailers, will celebrate National Root Beer Float Day on Thursday, August 6, 2015. In honor of the holiday, Sheetz loyalty card holders will be able to purchase Sheetz's new Barq's Root Beer Float for $1.99 at all locations.
Each year, the nation comes together to celebrate Root Beer Float Day on August 6. The root beer float, also known as the "black cow," was invented by Frank J. Wisner in August of 1893. One night, Wisner was inspired by the snow on top of the Cripple Creek Cow Mountain and decided to add a scoop of vanilla ice cream to root beer. Since then, thousands of root beer floats are enjoyed by people around the country each day.
Sheetz is proud to celebrate this rich American tradition, as well as its recent launch of the Barq's Root Beer Float. This new menu addition combines the sharp taste of Barq's root beer with the sweet, refreshing flavor of vanilla ice cream. The new Barq's Root Beer Float is just one option on the Sheetz frozen beverage menu, from which any item can be made to order. Sheetz's frozen beverage line has a variety of options for customers to choose from including f'real milkshakes, fruit smoothiez, frozen lattes, frozen mochas and frozen creamz featuring flavors like hazelnut, caramel and banana among others.
To find your closest Sheetz, click here.
About Sheetz, Inc.
Established in 1952 in Altoona, Pennsylvania, Sheetz, Inc. is one of America's fastest growing family-owned and operated convenience store chains, with more than $6.9 billion in revenue and more than 16,000 employees. The company operates 500 convenience store locations throughout Pennsylvania, West Virginia, Maryland, Ohio and North Carolina. Sheetz provides an award-winning menu of Made-To-Order sandwiches and salads, which are ordered through unique touch-screen order point terminals. All Sheetz convenience stores are open 24 hours a day, 365 days a year. For more information, visit http://www.sheetz.com.
###