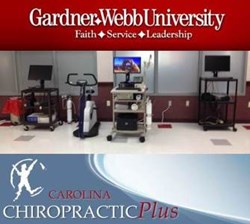 We think this is a great opportunity, not only for the science curriculums at GWU, but also for Carolina Chiropractic Plus to give back to the community.
Shelby, NC (PRWEB) October 21, 2013
Carolina Chiropractic Plus in Shelby, NC and its founders, Dr. Danielle Rogers-Berkowitz and Dr. Richard Berkowitz have sponsored the creation of a new 1,300-square-foot Human Performance Laboratory on the campus of Gardner-Webb University (GWU) in Boiling Springs, NC. The GWU Carolina Chiropractic Plus Human Performance Lab will be used in a variety of ways, including assessing subjects' physical condition, identifying issues and improving their strength, flexibility, range of motion, endurance, and cardiovascular capacity.
In addition to supporting Gardner-Webb's Exercise Science and Athletic Training programs, Dr. Berkowitz is very encouraged that the Lab will also be used to deliver a worksite wellness program at the university. This program will involve faculty and administrators being screened and coached in the Lab. When data indicates participants are improving their well-being, they may be incentivized with lower health care premiums. As a self-insured university, lower healthcare costs are particularly important to GWU. Both Dr. Berkowitz and the Lab's Director, Dr. Jeffrey Hartman, are very hopeful that this data will show lower healthcare costs over the next 5 years and that the empirical data they collect can be used to initiate labs like this across the country and help to reduce healthcare costs more broadly. Rogers-Berkowitz explains, "We expect a good bit of synergy between the Lab and the clinic in regard to health and wellness and long-term functional outcomes. We are excited about participating in this way and about our new relationship with Gardner-Webb University."
Carolina Chiropractic Plus (CCP) contributed $100,000 of the estimated $250,000 needed to launch the new human performance laboratory. As the Lab's programs develop and expand, CCP may also offer additional resources, such as foot scanning equipment for determining arch support and orthotic needs, computerized instrumentation for spinal exams and adjustments, and advanced software for nutritional analysis. In terms of day-to-day operations, CCP anticipates providing assistance to the Lab on an "as-needed" basis and possibly providing on-site professional services one day a week.
The Gardner-Webb University Carolina Chiropractic Plus Human Performance Lab had a "soft" opening on September 16, 2013, and the university is now in the final stages of setting up equipment and training the students who will assist with the Lab's operations. The Lab is located in the Exercise Science wing of Bost Gymnasium and University Physical Development Complex. The Lab is currently open only to GWU students and faculty. However, the university plans to make it available to the local community in the future as well. It is expected that the Lab's operating costs will be partially offset by GWU endowments and patient treatment fees.
"We think this is a great opportunity, not only for the science curriculums at GWU, but also for Carolina Chiropractic Plus to give back to the community." The Lab will be able to help identify areas of improvement for chronic pain and injuries, as well as identifying and implementing fitness and wellness plans. "GWU undergrad science students, athletes, and those seeking improved overall wellness, will be able to utilize this Lab and benefit from several start-up programs," says Rogers-Berkowitz. Gardner-Webb University offers a Bachelors of Science degree in Exercise Science, with Health Fitness and Pre-Professional concentrations, through the university's School of Preventive and Rehabilitative Health Sciences. The new Lab will offer students additional hands-on experience using the latest tools and technologies as they pursue their degrees.
About Carolina Chiropractic Plus
Carolina Chiropractic Plus is a family-friendly wellness clinic that has been serving the Shelby, NC community since 1996. With a strong foundation in treating musculoskeletal conditions through chiropractic care, spinal decompression and laser therapy, the practice has expanded to meet the broader healthcare needs of families, including nutritional counseling, structured exercise programs and lifestyle coaching. Carolina Chiropractic Plus provides a unique and valuable patient experience by combining the latest in chiropractic technology with a strong rehabilitation presence and an emphasis on core wellness principles.
Carolina Chiropractic Plus
145 W. Dixon Blvd.
Shelby, NC 28152
(704) 482-0135
http://ncchiroplus.com
Follow Carolina Chiropractic Plus on Facebook.
About Gardner-Webb University's School of Preventive and Rehabilitative Health Sciences
Gardner-Webb University is a private, Baptist-affiliated, four-year university located in Boiling Springs, NC. Its community includes nearly 5,000 students and approximately 150 full-time faculty members. The mission of the university's School of Preventive and Rehabilitative Health Sciences (PRHS) is to integrate the knowledge, skills, and values of the health sciences that contribute to the prevention of disease and disability and maintenance and restoration of health and function.