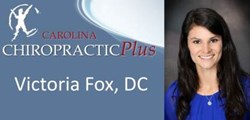 We're very confident we've found the right person to help us continue providing the area's very best conservative healthcare.
Shelby, NC (PRWEB) August 13, 2013
Shelby, NC Chiropractor Richard Berkowitz and the team at Carolina Chiropractic Plus have recently welcomed a new doctor into their ranks. Victoria Fox, DC has joined the growing practice and will use her training and experience to treat patients and act as an important community health and wellness resource. Asked about the reasons for adding a new chiropractor to the mix, Dr. Berkowitz explains, "We're growing and—after an exhaustive 10-month recruitment process—we're very confident we've found the right person to help us continue providing the area's very best conservative healthcare. Dr. Fox has a uniquely competent and compassionate method in caring for her patients, particularly the parents and children who come to us for help. That's something I think our patients will certainly appreciate as they get to know her."
For her part, Dr. Fox is excited about joining the Carolina Chiropractic Plus family. "I think it's a great fit for me both professionally and personally. The approach we use here is very patient-centered, and I'm excited about building great new relationships with people while providing them with great care. I particularly hope to reach out to parents in the community and educate them on the importance of maintaining good spinal health at an early age. We'd love to see more children in the practice. This area is very similar to the one where I grew up, so it already feels familiar to me and I'm really looking forward to introducing myself!"
About Dr. Victoria Fox, DC
Dr. Fox is a Chiropractic Physician at Carolina Chiropractic Plus in Shelby, NC. A native of nearby Morganton, North Carolina, she completed her undergraduate studies at Western Carolina University with a Bachelor's Degree in Recreational Therapy and earned her Doctorate of Chiropractic from Sherman College of Chiropractic in Spartanburg, South Carolina. Dr. Fox has focused her professional training on pediatric chiropractic, functional movement assessments and various chiropractic techniques. She has also been very active in her community, working with developmentally delayed children in a series of local service projects and teaching at Western Piedmont Community College's high school diploma program prior to attending Chiropractic College.
About Carolina Chiropractic Plus
Carolina Chiropractic Plus is a family-friendly wellness clinic that has been serving the Shelby community since 1996. With a strong foundation in treating musculoskeletal conditions through chiropractic care, spinal decompression and laser therapy, the practice has expanded to meet the broader healthcare needs of families, including nutritional counseling, structured exercise programs and lifestyle coaching. Carolina Chiropractic Plus provides a unique and valuable patient experience by combining the latest in chiropractic technology with a strong rehabilitation presence and an emphasis on core wellness principles.
Carolina Chiropractic Plus
145 W. Dixon Blvd.
Shelby, NC 28152
(704) 482-0135
http://ncchiroplus.com
Follow Carolina Chiropractic Plus on Facebook.